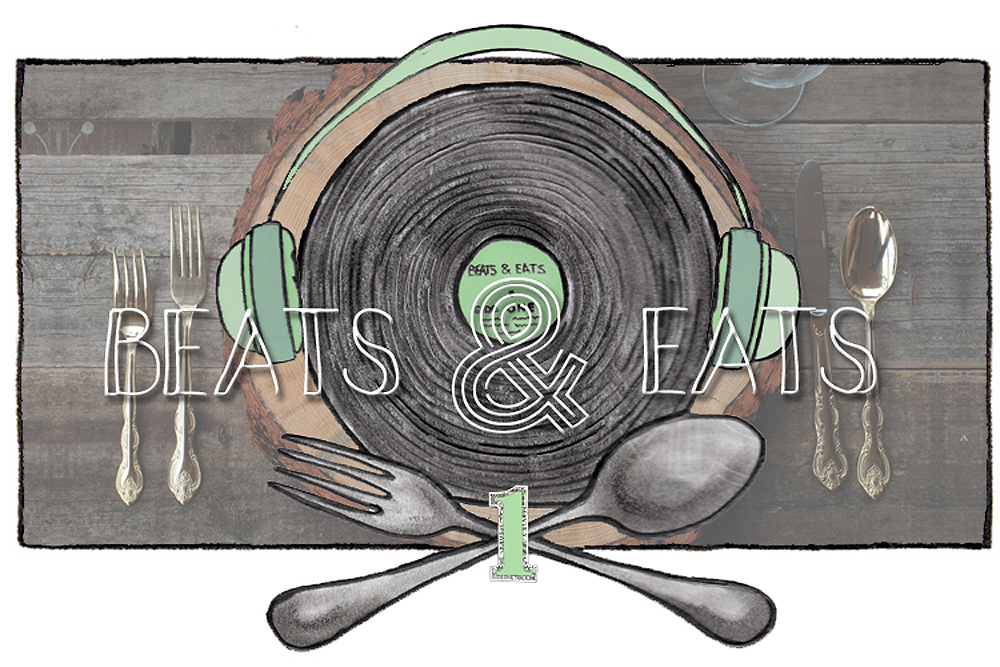 Beats & Eats is a mixtape and a meal. A collection of tunes (sometimes there's a theme, sometimes it's just whatever I'm into this month) and a recipe to cook (bake, mix, whatever) while you listen to the songs. Enjoy!
–
Nothing says winter like making soups at home, while listening to your latest favorite mixtape, and sipping on strong whiskey — right now it's a glass of Barrel Select George Dickel, gifted to me by the staff at The Blackheart in Austin.
Beats & Eats: Volume 1 is 90 mins of some of my favorite 2015 releases to listen to while you make the baked potato soup recipe below, borrowed from the outstanding cooking blog Smitten Kitchen. This soup is damn near perfection. Perfect for these negative temps I'm experiencing in Minnesota. Familiarize yourself with the recipe, queue up the mixtape, and get ready for the best damn potato soup of your life.
–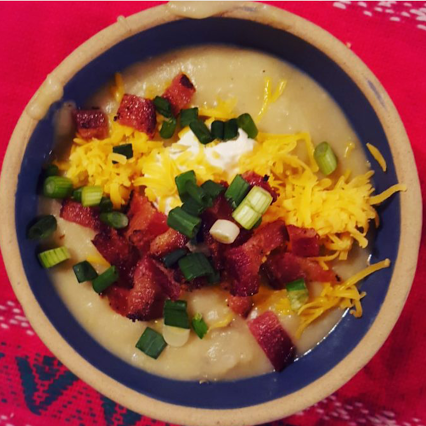 Smitten Kitchen Baked Potato Soup (serves 6)

Ingredients:
- 1 head garlic
- 3 tablespoons unsalted butter
- 2 medium leeks, white and light green parts halved lengthwise, washed, and chopped small
- 5 to 6 cups low-sodium chicken or vegetable broth (I used 5 cups; add the extra cup after pureeing if you'd like a thinner soup)
- 2 bay leaves
- Table salt
- 2 1/2 pounds russet potatoes, peeled and cut into 1/2-inch cubes
- 1/3 cup sour cream
- Ground black pepper
- Toppings, optional:
- Minced fresh chives or scallions
- Bacon bits
- Sour cream
- Grated cheddar
- A drizzle of melted (or melted and browned) butter
Instructions:
- Rinse the head of garlic to remove any outside grit or dirt. Cut the top third off the head and peel any loose papery skins off the bottom two-thirds. Pop out a bunch (or all) of the garlic clove tips and mince them.
- In a large, heavy pot or Dutch oven, melt the butter over medium heat. Add leeks and cook them until soft (but not brown), about 5 minutes. Add the minced garlic and cook another minute. Add the larger part of the garlic head (whole, not chopped), broth, bay leaves and 3/4 teaspoon salt. Reduce heat and simmer until garlic is very tender when pierced with tip of knife, 30 to 40 minutes. Add potatoes and continue to simmer, partially covered, until potatoes are tender, about 15 to 20 minutes.
- Discard bay leaves. Remove garlic heads. Optional: If you'd like an extra garlic boost to the soup, using tongs or paper towels, squeeze garlic head at root end until cloves slip out of their skins. Using a fork, mash the garlic cloves to smooth paste and add it back to the soup.
- Add sour cream to soup and cook for another 2 to 3 minutes. Adjust seasonings, adding more salt and pepper to taste. Using immersion blender, process soup until chunky-creamy, leaving lots of potato texture intact. (Alternatively, transfer a portion of the potatoes and broth to a food processor or blender and puree until smooth.) Serve with whatever makes you happy on top, or nothing at all.
Beats & Eats Vol. 1 Mixtape
Bones and Beeker open things up. Tap your feet while you peel potatoes and chop leeks. This is the bulk of the prep work you'll do today. The rest is hurry up and wait.
Smitten Kitchen's recipe gives you the option of peeling or not peeling your potatoes. I say "sort of" peel them — because peeling potatoes really sucks and is that really what you want to spend your afternoon doing?
2015 Mercury Prize finalists ESKA, C. Duncan, SOAK, and winner Benjamin Clementine, all make an appearance on January's mix. Son Little's The River wins 2015's "Most Under-Appreciated Award" in my book. Justin Vernon-produced The Staves drop in twice. So does Donnie Trumpet and the Social Experiment (second place in the James Taylor's "Most Under-Appreciated of 2015″ category).
By track 13 or 14 you should be thinking to yourself "Heck yeah, I'm making this killer soup! It's gonna be so good," and you'll be listening to Bully's I Remember and it'll be good. Titus Andronicus quietly (it seems to me) dropped a 29-song concept album earlier this year. It's a handful to dig through but Fatal Flaw is a Westerbergian gem.
Harvest Thieves and Keeper hold it down for Austin TX. Diet Cig (Harvard) and Pesky (Keep Me) are charming and delightful. Beach House somehow managed to release two albums in 2015, All Your Yeahs being one of several rad tracks spread across these two releases. Beyonce and Run the Jewels collaborator BOOTS drops Bombs Away. I included Blackstar on this mix before we lost David Bowie — what a fucking bummer 2016 has been for rock n roll. RIP.
Once everything is cooked through, transfer half your soup to a blender and puree, then return the blended soup to the chunkier half and mix it all up. You should have a delicious baked potato soup sitting in front of you, full of texture and flavor.  The key to this soup is everything that goes on top of the soup — the baked potato in all it's glory — bacon, chives, sour cream, grated cheddar cheese.
Chance the Rapper and his band Donnie Trumpet & The Social Experiment close out this month's mixtape. Chance's star is burning bright right now and the decision to put out an adventurous album with his backing band getting top billing deserves respect. Try not to get Jamila Wood's Sunday Candy chorus stuck in your head while you eat this delicious Baked Potato Soup.