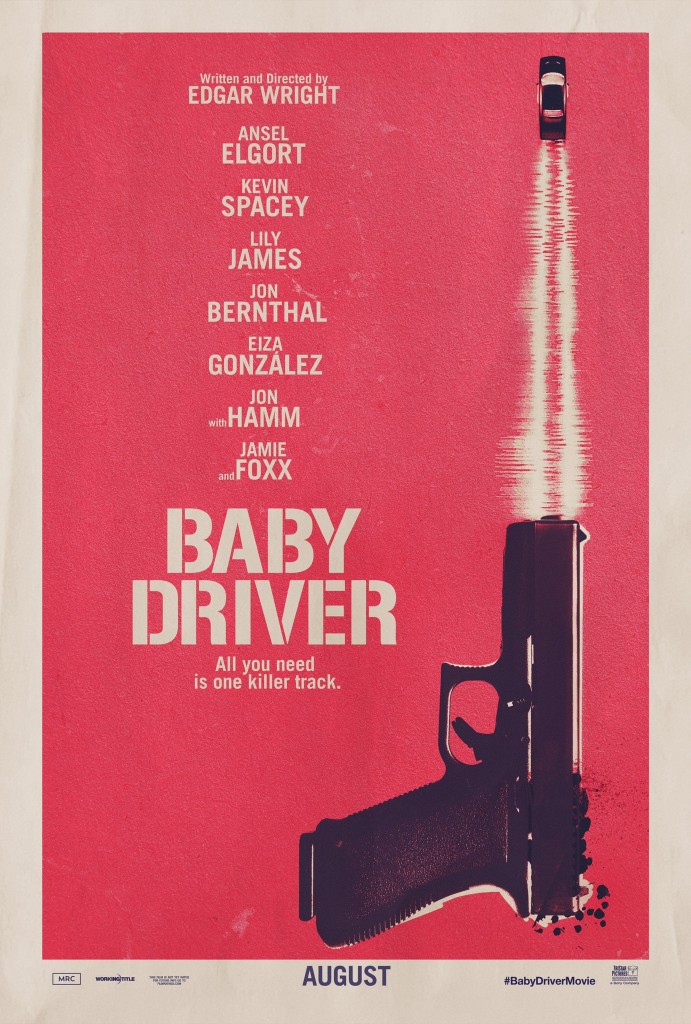 Pre-Screening Stance:
Even if The World's End was (at the time) the Edgar Wright movie that I connected with the very least, he is still one of the great directors working today. And if he wants to make a movie about an iPod listening getaway driver trying to escape the crime game, well, then I'm there in a Santa Suit on opening day.
Post-Screening Ramble:
I think there's a lot to be said about Edgar Wright's first movie post his beloved Cornetto Trilogy. Where Shaun of the Dead, Hot Fuzz, and The World's End were strictly British films (in style, content and cast), Baby Driver is Wright's most American feeling film. There's a sense of apple pie, American nostalgia that permeates the story of Baby (Ansel Elgort) – a tinnitus-affected music lover with some serious skill behind the wheel – and his want to quit the "crime team" and go live a life with Debora (Lily James), his diner-server lady friend. He's pursued by baddies – some with hearts of gold, others with hearts of coal – and to save the damsel in distress he's got to drive some cars and kick some ass. Wright does well to keep the film from feeling stale though, as he's clearly seen every driving movie ever and with the use of Baby's tinnitus as a plot device he has some room to zig and zag. But, if traditionalism bums you out, Baby Driver might not be your bag. This is a film about love and about good and evil and the grey murk that lies between (but only briefly before the cheer of this flick blasts that shit out of the water) and it's about a kid with a hearing problem saving the day. It walks a line between corniness and homage that Wright maintains, but chunks of the film still come off as saccharine. Is it ever unenjoyable or lacking in intelligence or wit? Of course not, but this still feels like a palate cleanser – a quick, fun production that lets Wright play in the meta-action sandbox (though only a little) he loves so much, toy around with some new acting pals and get a movie into the theater. It lacks the emotional heft of Shaun of the Dead or The World's End and the bizarreness of a Hot Fuzz or Scott Pilgrim. Instead it coasts along flatter, less interesting middle bits that lie between both. I'm hoping it's the smoothing of the foundational cement so Wright can leap up and out into the weirdness. As of now though, it's a nice stop-gap.
One Last Thought:
I watched The World's End right after seeing this and what really stands out is the visual nature of it compared to Baby Driver. This film is sort of bland in terms of cinematography gusto and in the context of Wright's other movies, well, it's glaring. This could be because the film takes place in Atlanta, which seems to be a very large, very spread out REI superstore where people also live.