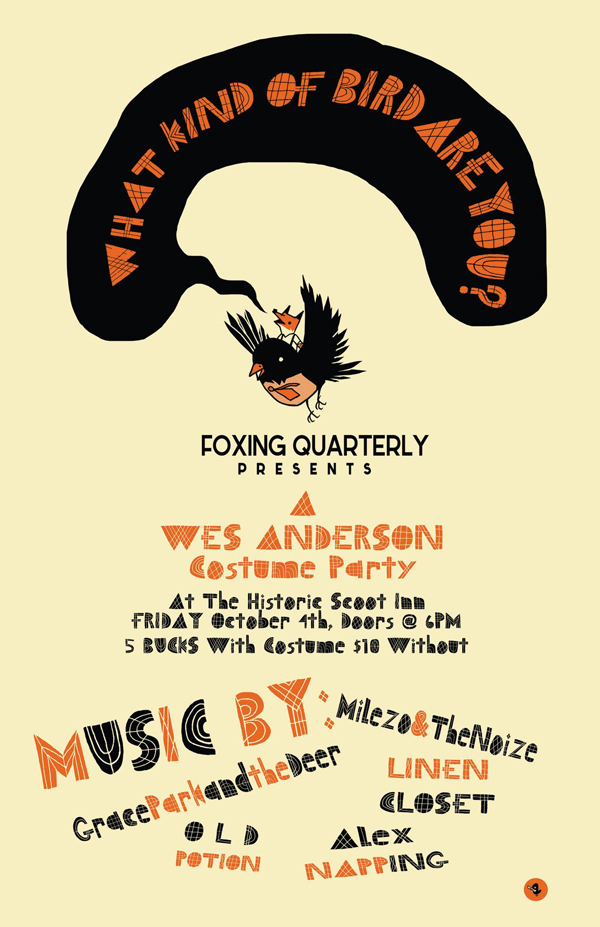 If you live in Austin, it's hard to miss any coverage about the Austin City Limits Festival over the next two weeks. But if large, outdoor festivals just aren't your thing or you simply can't attend, know that there are plenty of choices available outside of Zilker Park.
One of the events I recommend is the Wes Anderson costume party, What Kind Of Bird Are You?, which is presented by the literary journal Foxing Quarterly. It's happening at Scoot Inn this Friday (doors at 6 pm).
You're encouraged to dress as your favorite character from a Wes Anderson film (cover is $5 with costume, $10 without costume). The event includes special readings, which will be followed by plenty of music by local bands (featuring Wes Anderson soundtrack covers): Linen Closet, Grace Park And The Deer, Milezo, Alex Napping, and Old Potion. I have my fingers crossed for Linen Closet to cover These Days by Nico or Elliott Smith's Needle In The Hay.
—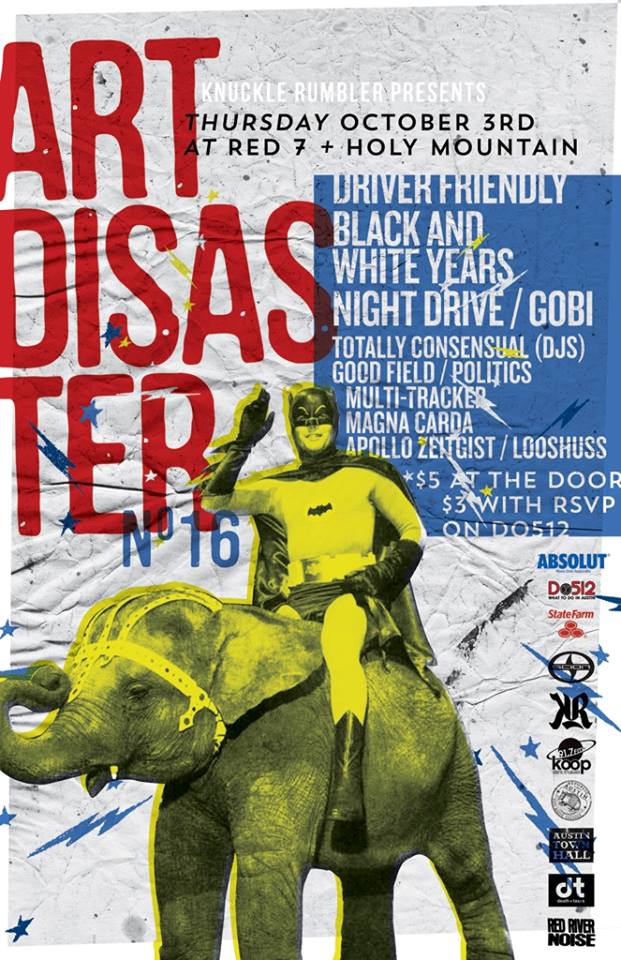 Tomorrow night the folks behind Knuckle Rumbler are presenting the annual pre-ACL event known as Art Disaster. This year's effort is spread across two venues, Red 7 and Holy Mountain, and it will feature over a dozen bands and DJs including The Black And White Years, Driver Friendly, Good Field, Letting Up Despite Great Faults, and many more.
You get a wide variety of sounds for a bargain cover price – $5 cover or $3 if you RSVP on Do512.
—

Another worthy festival alternative is Ditch The Fest Fest 4 and 5, presented by Raw Paw and Scoot Inn this Saturday and then on October 12 at the Scoot Inn. Both days feature of over 35 local and regional bands including Black Books, The Sweet Nuthin, Growl, Yum, Danny Malone, Borrisokane, Boy + Kite, and much more. There will also be art installations by CogDut, Cloud To Ground, COLLABnART, etc.
Only a $5 cover for each day. This is a really excellent lineup for the budget minded local music and art fan – highly recommended.