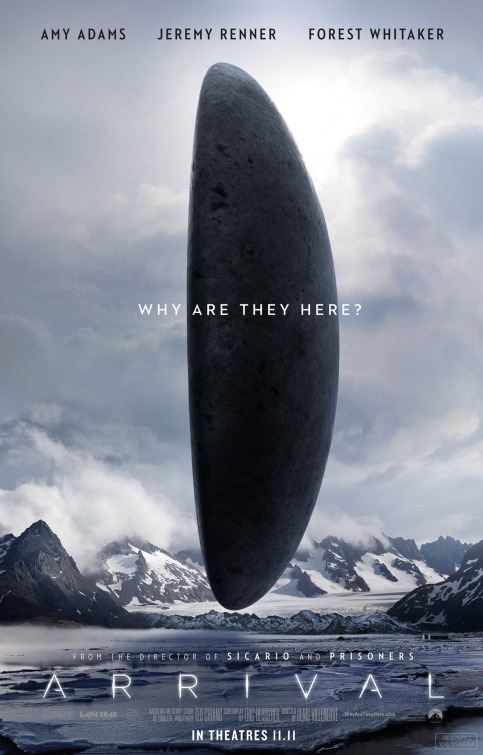 Pre-Screening Stance:
Denis Villeneuve (Prisoners, Incendies, Sicario) is a great director, so even if Arrival was a romantic comedy with Ashton Kutcher and Kate Hudson as the leads, I'd still be down to watch it.  With that being said, I am thankful his latest film isn't that and is instead what looks to be a super neat slice of sci fi.
Post-Screening Ramble:
If you're hoping that Arrival is going to deliver some type of Independence Day-like spectacle, then it isn't for you.  If, however, you're hoping that Arrival is more of an artsy Contact, then get ready to have a smile slapped onto your face!
The film begins with … well, an arrival.  Aliens suddenly appear in large ships – 12 of them be exact – across the globe, and every now and again they open a door that allows humans to enter for a chat.  Naturally though, there's a large language barrier that needs to be hurdled, so an expert linguist by the name of Louise Banks (an emotionally raw Amy Adams) is brought in to try and help decipher why these beings have parked their big ships all over the planet.  She's joined by a physicist, Ian Donnelly (a charming Jeremy Renner), and a military fella, Colonel Weber (a stern Forest Whitaker).  Together they discover all sorts of things, and then some neat stuff happens.  I won't note what neat stuff happens, as that would just spoil the film for you, so instead I'll switch gears and focus on director Denis Villeneuve, who turns in masterful work on all fronts in Arrival.  His film is an intense ride, but less so because there's a group of aliens who may or may not want to destroy the world and more so because it's emotional and heady.  Expect to walk out with all kinds of feelings and thoughts racing through you.  Lastly, Arrival is visually stunning, and there's a big part of me that wants to see it again simply just to marvel at what Villeneuve crafted for the big screen.  That guy is seriously good at his job.
Go see Arrival because it's fantastic.  Just be sure you know going in that it's more of a sci fi drama than an action flick.
One Last Thought:
For a good while now I've simply just appreciated the talented Amy Adams, but she's been hardcore killing it these last few years and it's totally time for me to become her biggest fan.  I am ready.