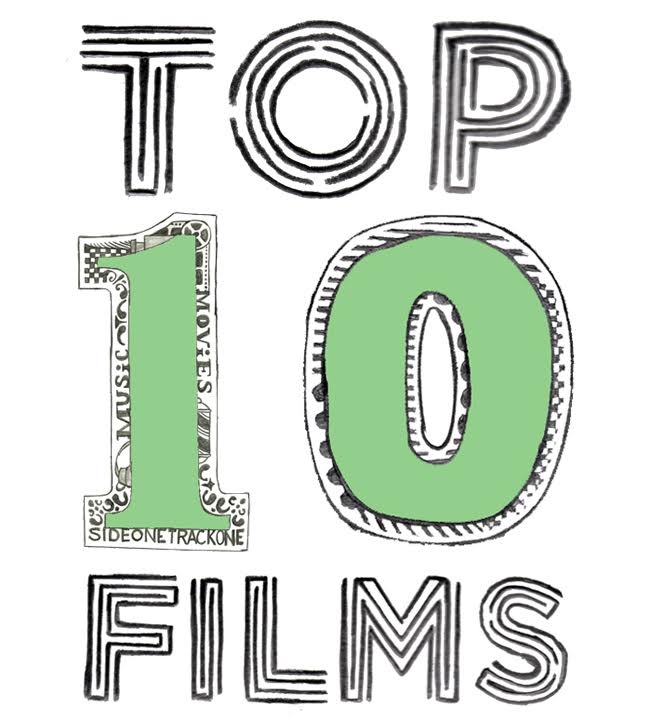 Noah and I saw a bunch of terrible movies last year.  You probably don't care about any of those, so below you'll find the ones that we liked a lot.  Enjoy.
John's Top 10 Films Of 2015
10)  Bone Tomahawk
Most people think that The Hateful Eight was the best western to come out in 2015, and they're wrong.  It was definitely Bone Tomahawk.  Oddly enough, Kurt Russell is in both of them, and the characters aren't all that different.  Maybe that's part of the reason why Tarantino's flick overshadowed the engaging slice of western horror that was crafted by newcomer S. Craig Zahler.  Oh well.  In any case, Bone Tomahawk is a fantastic film that's brutal but also funny and charming.  See it if you missed it.
09)  Spotlight
Of all of the movies I saw in 2015, Spotlight is the only one that truly screamed "best picture" to me.  Its story is tightly presented and shocking, and there isn't a bad performance to be found anywhere in the film.
By the way, I'd love to see the story that Spotlight is based on expanded and done in the form of an HBO/Netflix mini-series (think The Jinx or Making A Murderer).  I'm sure it would be super interesting.
08)  Star Wars: The Force Awakens
I'm all about The Force Awakens.  Yes, I know it's practically a carbon copy of A New Hope, and I don't really care.  The nostalgia is strong with me.
07)  Mission Impossible: Rogue Nation
The Mission Impossible series has largely been good, but my main reason for steadily coming back to it is Tom Cruise.  The guy goes all out on everything, and it's his enthusiasm that allows Rogue Nation to be the best MI entry yet.
06)  Inside Out
My faith in Pixar was starting to waiver, but then Inside Out arrived and cleared away my doubt.  They're obviously still a company that's capable of developing new ideas and turning them into meaningful films that are great for all ages.
05)  Room
While I think that Spotlight is probably more worthy of the "best picture" award, I'm totally pulling for Room.  Brie Larson and Jacob Tremblay are both amazing in it, and director Lenny Abrahamson couldn't have done a better job of constantly making me like feel an emotional wreck.
04)  The Martian
Ridley Scott hit a total home run with his adaptation of The Martian.  It's such an easily accessible film (even with all sorts of science being thrown around), and I'm not sure Matt Damon has ever been more charming or likeable.
03)  Ex Machina
Alex Garland's directorial debut is a mesmerizing piece of sci-fi  I especially love the way its paced.  The damn thing just patiently strolls along while steadily daring you to guess where it's going.
02)  Creed
I wasn't at all sure what to expect from Creed.  I love the Rocky films, but a spin-off all of these years later kept registering as unnecessary to me.  I was wrong.  I think Creed ranks just under the original Rocky as the best film in the series.  Sylvester Stallone deserves an Oscar, and I really hope that Michael B. Jordan continues on with his character and stars in a whole slew of sequels.
01)  Mad Max: Fury Road
Surprise!  Not really.  Just like the rest of the world, I love Max Max: Fury Road.  At this point (because it's on HBO now) I think I've seen it 10 times, and I grow more and more fond of it with every viewing.  What a big, crazy, weird flick it is.
Here are entries 11-35.  Just for fun.
35)  The Hunger Games: Mockingjay – Part 2
34)  Ant-Man
33)  The Gift
32)  Southpaw
31)  Love And Mercy
30)  Goosebumps
29)  Straight Outta Compton
28)  Carol
27)  Trainwreck
26)  The Witch
25)  Jurassic World
24)  Kingsman: The Secret Service
23)  The End Of The Tour
22)  April And The Extraordinary World
21)  Bridge of Spies
20)  Sicario
19)  Furious 7
18)  The Big Short
17)  Jobs
16)  The Hateful Eight
15)  The Revenant
14)  The Lobster
13)  Magic Mike XXL
12)  Brand New Testament
11)  Green Room
Here are my biggest disappointments of 2015.
Avengers: Age of Ultron
Tomorrowland
Spectre
Here are six films I missed that I'd still like to see.
Brooklyn
Beasts of No Nation
The Night Before
Joy
Cop Car
Crimson Peak
Noah's Top 10 Films Of 2015
Star Wars: The Force Awakens
Star Wars: The Force Awakens isn't a perfect movie by any means. And if I wasn't dropping it on the top of my Top 10 for 2015, I'd be happy to regale you with my issues with the film. But at the end of the day (year), I've seen the film twice (with a third screening on the way) and though it may have its flaws, it takes the world of Star Wars – a messy, nerd-controlled, dystopian landscape – and gives it back to the public in a near perfect distillation of everything that made the original trilogy such instant classics. I haven't felt more overwhelmed with emotion – nostalgic or otherwise – with any other film in the last ten years. I stepped out of the press screening happy, sad, glowing with the energy a good film leaves with you, but most of all, I stepped out excited to see universe I've loved since before I could speak, finally returned in all its glory.
Mad Max: Fury Road
Mad Max: Fury Road doesn't just look like the work of some 22-year old film prodigy fresh from movie school, it crackles with the energy you would only expect someone who's yet to be exposed to the soul-crushing nature of Hollywood. Thus, it blows my mind that 72-year old George Miller was able to bring this singular vision of a world at its breaking point to the screen. Any other year this would have stood at the top of the pile, glowering down on any competitors. It's a beautiful piece of world-building (they fix the cars WHILE they drive) paired with some of the most dynamic, original action pieces, well, ever. But more than that, it's a statement, a call to arms for the future action blockbusters of the world to eschew the boring tropes of generic stories and cardboard characters. All hail George Miller.
Creed
I'm the guy who says Rocky IV is his favorite of the Rocky films. Yup, that's me. Sad truths aside, when Stallone announced that they'd be making a new Rocky film centered on the son of Apollo Creed, I balked. Did we really need another Rocky film? The answer, empirically, is yes. Director Ryan Coogler has managed to translate the first Rocky film for a new generation. Instead of Rocky Balboa, we're given Adonis Creed, a rich kid from L.A. who decides to follow in his father's footsteps and become a boxer. It's not a complicated film, but Coogler takes the energy and nostalgia for the first film and infuse it with a modern, hip-hop, underdog mentality that elevates above and beyond its predecessors. Bring on the sequels!
Sicario
As long as Denis Villeneuve is making films, I think they'll end up on my Top 10 lists. I read somewhere that Sicario was the Apocalypse Now of drug movies, and I whole-heartedly agree. Emily Blunt plays a border police officer who's pulled into a covert drug unit to battle drug czars in Mexico. What follows is a harrowing, dark dissection of our modern war on drugs. Though it's intense, riveting, and full of nail-biting action moments (and one of the best Benecio del Toro performances in years), it feels like nothing that's come before.
The Martian
I hated Andy Weir's book The Martian, so when I heard that they were making a movie directed by Ridley Scott and starring Matt Damon, I was skeptical. Yet The Martian is one of the best sci-fi films in a recent memory. Matt Damon proves his pure, unadulterated stardom by infusing the character of Mark Watney with humor, sadness, and an almost unbearable sense of loneliness. It's somehow both realistic and fun, filled with memorable performances, and shot through with a sense of technological hope you don't see much these days. Take your kids to this, they'll grow up wanting to be astronauts.
Ex Machina
I sort of hate Alex Garland. He's one of the best screenwriters of the last twenty years, and now, well, he's an amazing first-time director. Ex Machina, the story of two men and an ultra life-like fembot is not only a great think piece about sentient robotics, but a deeply scary look at the dangers of technology. The film is gorgeously shot, beautifully scored, and features truly brilliant performances from its three leads. If the last shot of the film doesn't make your stomach clench with anguish, well hell, you've got a constitution made of iron. Another notch in the revitalization of the modern science-fiction film.
The Hateful Eight
Oh Quentin, you crazy crazy man. I don't know how to recommend this film. It's slow and steady, shot like a play, and rests just a few inches outside of boring for most of its running time. How about this – do you like Tarantino dialogue? Do you like pop-laden discussions of racism in America? Do you like Samuel L. Jackson giving a performance only Tarantino would allow? Well, then you'll like, probably love this film. I certainly did.
The End of the Tour
Hollywood, take note: this is how you make a bio-pic. You don't fritter away your credibility by trying to immerse audiences in the full-scale retelling of a life. Oh no, you pick a moment – a day, a week, an hour – that identifies the major themes that ran through your subjects life, and you fully expose the entirety of it. In this case, James Ponsoldt (batting 1.000 at this point) takes a week long interview between David Lipsky and David Foster Wallace and uses it to highlight just how DFW was, while exploring the triumphs and tribulations of becoming a famous writer. Jason Segal has reinvented himself with this film and it's always nice when someone puts Jessie Eisenberg's inherent creepiness to good use.
Beasts of No Nation
Cary Fukanaga can do anything. I'm assured of this. He crafted one of the best ten hours of television, well, ever with True Detective. He made me give a shit about English Period dramas with Jane Eyre. And now he's used his immense skill to artfully portray the horrors of African civil war through the eyes of a child-turned-soldier. Idris Elba turns in another star-worthy performance as The Commandant, a violent rebel leader grasping for power. But the true star of the film, aside from Fukanaga's visuals, is newcomer Abraham Attah as Agu, a local village boy who is thrust into the armed services of The Commandant. This is a brutal, brutal film that somehow manages to be both poignant, poetic and absolutely mesmerizing. If the last shot of the movie doesn't bring tears to your eyes, you might be broken on the inside.
Mission Impossible: Rogue Nation
The best entry yet in this impossibly good action series.
Honorable Mentions:
True Story
Crimson Peak
The Visit
Inside Out