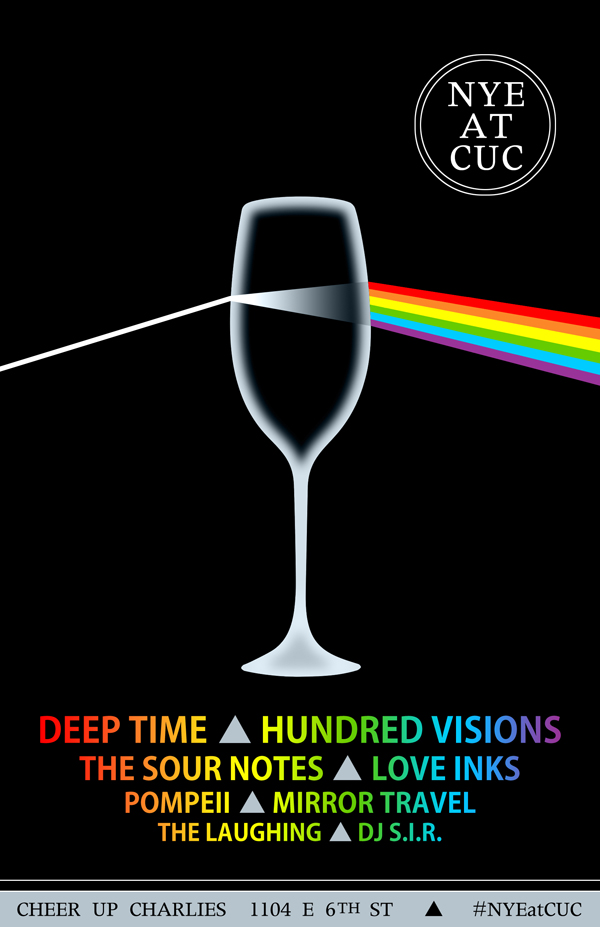 Because trying to decide where to be on New Year's Eve is tedious and oddly stressful, we've made plans for you!  You just need to be at Cheer Up Charlie's when the doors open at 9pm, and you'll get to transition from 2012 to 2013 with Deep Time, The Sour Notes, Mirror Travel, The Laughing, Hundred Visions, Pompeii, Love Inks, and DJ S.I.R. Ezra.  That's a killer lineup, featuring some of the best acts in Austin, and it's just $5.  Don't miss out!
Inside Stage Times:
9:15-9:45 – The Laughing
10:15-10:45 – Mirror Travel
11:15-11:45 – Hundred Visions
12:30-1 – The Sour Notes
Outside Stage Times:
9:45-10:15 – Pompeii
10:45-11:15 – Love Inks
11:45-12:30 – Deep Time
1-2 – DJ S.I.R. Ezra
You know what's fun?  Getting to know the bands you're about to see play.  Your date is going to be so impressed.