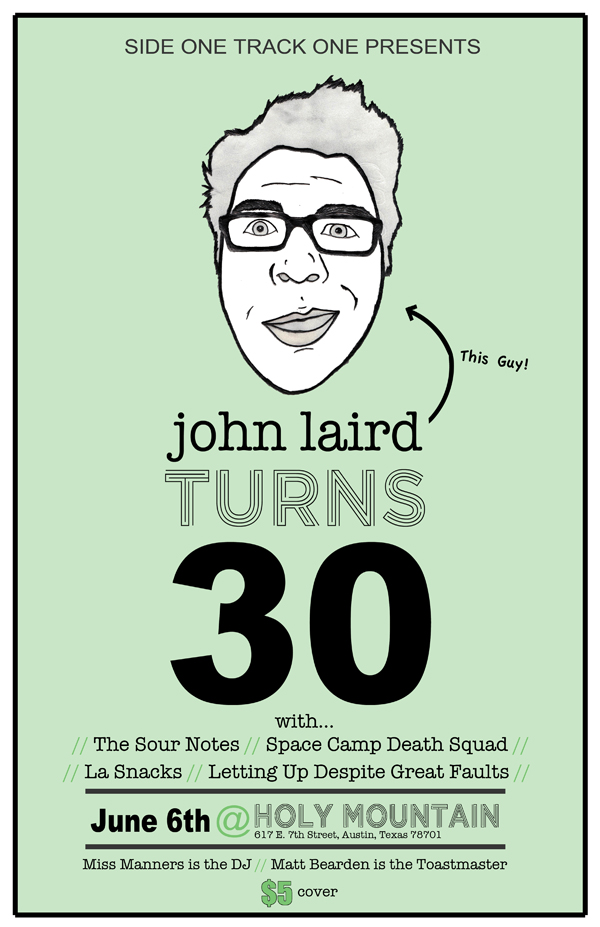 Hello!  I'm John Laird, and in case you somehow weren't already aware of this, I run this silly blog.  For years now (nearly 10, I think) I've lived happily in my 20s, but that time is coming to an end.  Life dictates that I click the age-o-meter over to 30, and while I sort of want to hide away in my house and wonder where all the time went, I'm actually going to throw a party at the glorious Holy Mountain on June 6.
On the bill for this crazy thing is Space Camp Death Squad, The Sour Notes, Letting Up Despite Great Faults, and La Snacks.  It's four of Austin's finest just for me … and you, because hopefully you'll be there to help me celebrate my 30th birthday.
Cover is just $5 (this way the bands get rewarded for being awesome).  There will be $3 Crispin drafts/cans and $5 Hornitos' Margaritas.  Also, snatch up free mini cupcakes (while they last), courtesy of Two Gals Cupcakery!
SOTO's own Leah (aka Miss Manners from Hip Hop Hooray) will DJ, and funnyman Matt Bearden is serving as Toastmaster.
Doors at 8pm. Here are the set times:
9pm – La Snacks
10pm – Letting Up Despite Great Faults
11pm – The Sour Notes
12am – Space Camp Death Squad
1am – Miss Manners
Matt will conduct a toast whenever he damn well pleases.
—
Space Camp Death Squad

Space Camp Death Squad is a collective of rad dudes that are better at hip hop than you.  So, show up and watch them impress.
The Sour Notes
Every now and again people ask me why I'm always at Sour Notes' shows.  Well, I'm not.  They're one of Austin's hardest working bands, and because of this they just happen to play many of the shows I attend.  In other words, it's totally their fault that we're always together.  There may also be a thing where they're a fantastic progressive pop band that I greatly enjoy, but that's a story for another day.
Letting Up Despite Great Faults
One of the nicer things to happen to the local scene was the addition of Letting Up Despite Great Faults (they relocated from LA).  They're a high quality, professional band that churns out really nice shoegaze-enthused material.  Also, Kent Zambrana is the classiest looking bass player I know.
La Snacks
La Snacks were one of the first bands that I met and became friends with when I moved out to Austin in 2007.  Their indie rock ways have always been a favorite of mine, and frontman Robert Segovia is on a shortlist of people that I can argue with and hug at the same time.