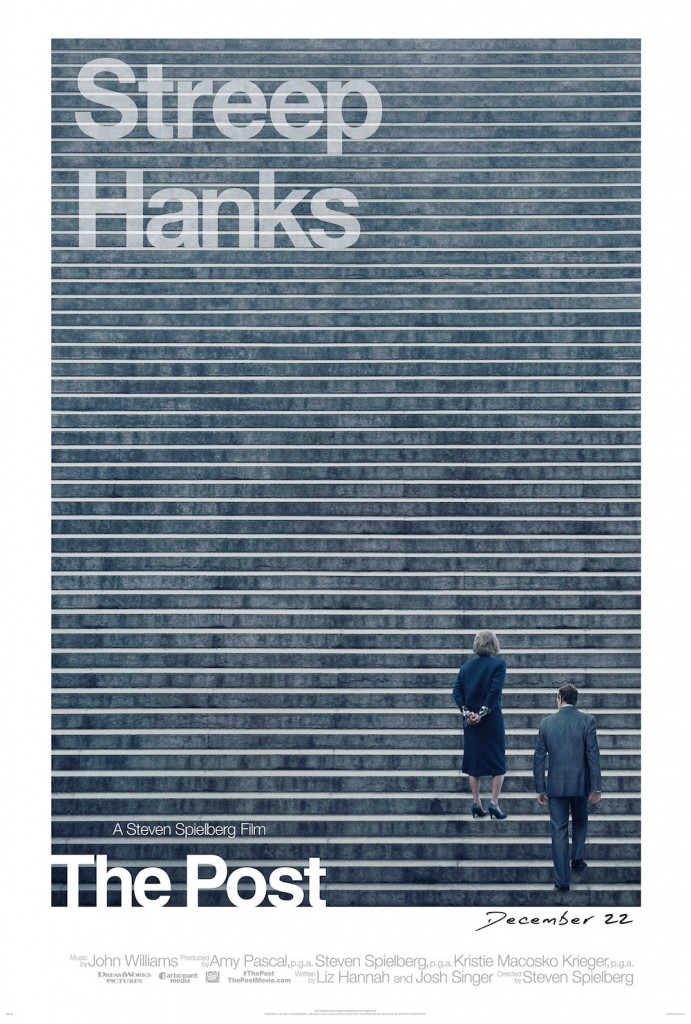 Pre-Screening Stance:
As much as I like Steven Spielberg when he's in full on spectacle-mode, I really love his historical dramas.  If we're lucky, The Post will be another Bridge Of Spies or Munich.  If he swings and misses here, at least we'll get to see Meryl Streep and Tom Hanks on the big screen together.
Post-Screening Ramble:
There's two sides to The Post.  One is Steven Spielberg succinctly detailing what happened when the Washington Post risked everything to expose the Pentagon Papers, a secret government report that essentially pegged the Vietnam War as unwinnable.  This is, of course, fantastic stuff.  I couldn't get enough of both Tom Hanks as Ben Bradlee, a man hell bent on doing what's right regardless of the consequences, and Bob Odenkirk as Ben Bagdikian, a relentless scoop-hound.  They're such great characters, and watching them develop such a massive, dangerous and important story makes for good fun.  The other side of this movie is centered around Meryl Streep's Kay Graham, the inspirational owner of the Washington Post during the whole Pentagon Papers fiasco.  She starts out as an unwillingly decision-maker when it comes to things at the newspaper, but as the film goes on you watch her take charge of her life and her company, and it's as equally fantastic as the more suspenseful side of the The Post.  I think it might actually be some of Streep's best work, which somehow feels silly to note.  In any case, this is the sort of historical drama that will make you want to cheer.  Go see The Post.
One Last Thought:
David Cross plays Howard Simons in this movie, and he's barely recognizable as the former employee of the Washington Post.  He also doesn't have very many lines and in general he doesn't do much of anything.  Maybe he had some scenes that got cut?  Otherwise I can't figure out why he signed up for this one.