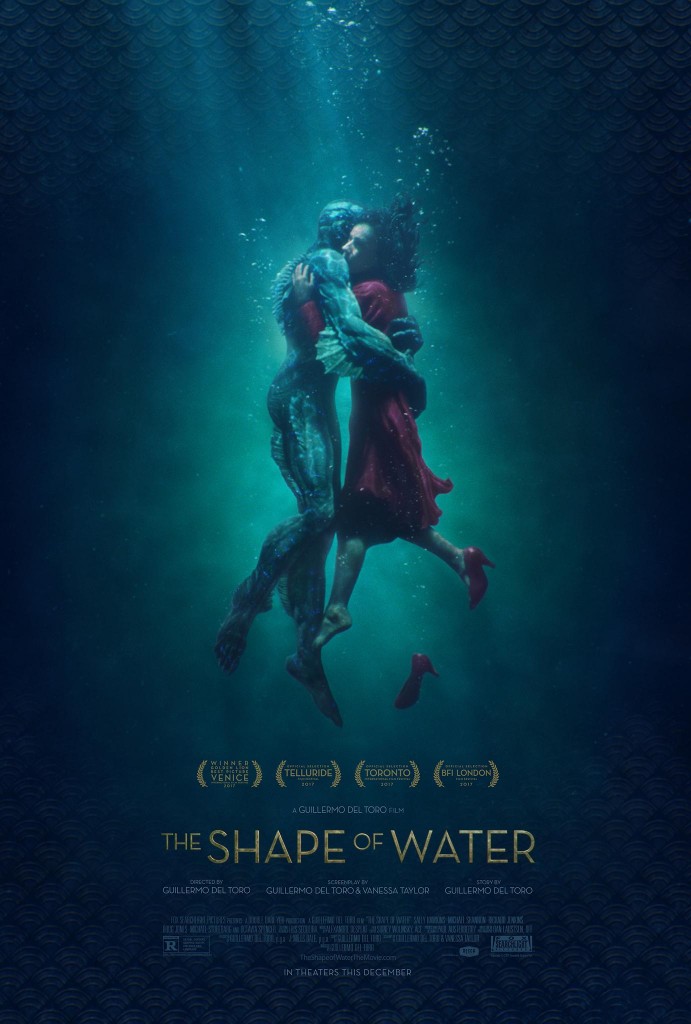 Pre-Screening Stance:
I've been anxiously awaiting Guillermo del Toro's The Shape Of Water ever since that first teaser rolled out way back when.  It looks like it has somewhat of a Pan's Labyrinth vibe, and I'm all about that.
Post-Screening Ramble:
For me, The Shape Of Water ranks just under Pan's Labyrinth when it comes to Guillermo del Toro films.  It's centered around Elisa (Sally Hawkins), a mute woman who works as a janitor in a research facility.  She lives a somewhat stilted life, but her besties – one is her sassy co-worker Zelda (Octavia Spencer) and the other is her gay neighbor Giles (Richard Jenkins) – and her daily routine keep her going.  And that's it!  Just kidding.  Eventually Elisa's quiet existence gets blown away by the arrival of an amphibian man at the lab.  There's also the presence of the creature's capturer, Richard Strickland (Michael Shannon), that throws her for a loop.  Weird but beautiful things then happen.  Actually, beautifully weird is probably the best way to describe this fairy tale for adults (it frequently earns its R-rating).  There are so many lovely things in the movie.  I couldn't get enough of Elisa's endearing interactions with her friends, and I really enjoyed how loyal she is to them and vice versa.  The film itself also just has an underlying sweetness to it that's difficult to not get caught up in.  Then on the other hand it has some stuff that'll make your brain go "UH UH."  Again, it's beautifully weird.  Do yourself a favor and see it as soon as you can.
One Last Thought:
The Amphibian Man from The Shape Of Water.  The Faun and The Pale Man from Pan's Labyrinth.  Abe Sapien from Hellboy and Hellboy II.  The Silver Surfer from the movie that doesn't deserve a name mention.  Doug Jones deserves a lifetime achievement award.  Someone make that happen.