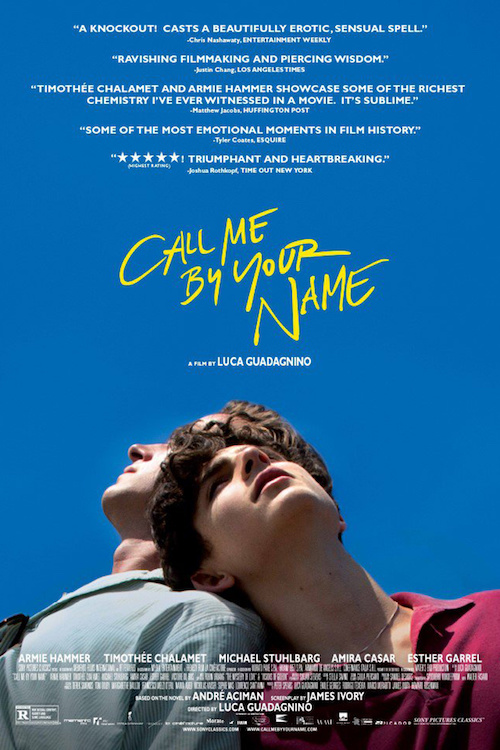 Pre-Screening Stance:
I haven't seen anything but enormous praise for Luca Guadagnino's Call Me By Your Name.  Here's hoping it really is one of the year's best films.
Post-Screening Ramble:
Is it weird to want to note that if you like Brokeback Mountain or Moonlight then you'll love Call Me By Your Name?  I suppose that it's no different than saying you'll like Rocky if you love Raging Bull, but it sure does feel a little odd, like it somehow generalizes Call Me By Your Name.  Maybe I'm just overthinking things here?  In any case, director Luca Guadagnino's latest film is beautiful.  I'm not sure it's for everyone, as it is a fairly pretentious effort with a solid runtime (2 hours, 12 minutes), but those that can look past some of its more highfalutin moments will find an impactful movie that details a young man's first love.  Personally, I found Call Me By Your Name to be fantastic.  Its slow, relaxed pace made me feel like I was actually spending a summer in Italy with the film's leads, Elio (Timothée Chalamet) and Oliver (Arnie Hammer).  Not to mention that there being no rush to shove the story forward allows for more than enough time to take in every moment and to fully attach to the characters.  I also have to applaud the way that the patient, warm film provides little meandering moments that make you feel nostalgic about your own first love.  What great work by Guadagnino.
I highly recommend that you go and get lost in Call Me By Your Name.
One Last Thought:
Between Lady Bird and Call Me By Your Name, Timothée Chalamet has had one hell of a year.  I'm guessing he'll start popping up in everything now.  I approve of this.  On another note, it caught me off guard that he also played Matthew McConaughey's rough and tumble teenage son Tom in Interstellar.