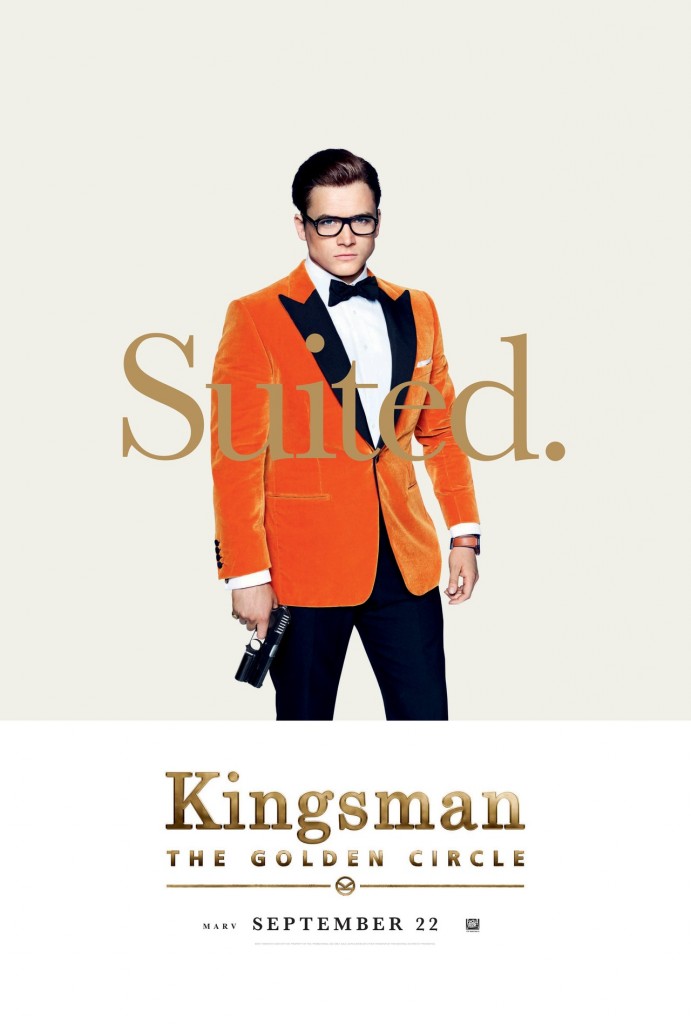 Pre-Screening Stance:
If you ask me, Matthew Vaughn has never directed a bad film.  With that being said, there's something about Kingsman – The Golden Circle that seems off.  Here's hoping that its flat trailers have been hiding all of the best parts.
Post-Screening Ramble:
I went into Kingsman – The Golden Circle not expecting much and feeling a little miffed about it being two hours and twenty minutes long.  I walked out anxious for the third entry and wondering why the movie didn't run another 15 minutes or so.  Eggsy/Galahad (Taron Egerton) is back, but he's not the immature, lost kid from the first film.  He's a Kingsman vet, he has a steady girlfriend in Princess Tilde (Hanna Alstrom, the … backdoor girl from the end of the last movie), he's got good friends, and all is well.  Naturally, no one in a movie can be this happy, so his life hits a real speed bump when a drug lord named Poppy (Julianne Moore) poisons people all over the world (via her products – weed, cocaine, etc.) and also wipes out the Kingsman.  This sends Eggsy/Galahad and Merlin (Mark Strong) on the run and into the hands of the Statesman, the American equivalent of the Kingsman, which features Champagne (Jeff Bridges), Ginger Ale (Halle Berry), Whiskey (Pedro Pascal) and Tequila (Channing Tatum).  Also, somehow someway, the original Galahad (Colin Firth) pops up, and then there's a real damn party at play with far too many characters.  The movie works though, as the majority of the folks on the screen take a back seat in favor of a wildly entertaining amount of pure comic book-inspired action.  Kingsman – The Golden Circle is a blast.  Yes, there's too much going on and not enough time for you to get to know most of the movie's inhabitants, but you won't care because you'll be delighted by just how outright bonkers this sequel is on all fronts.  I mean, there's a laser lasso!  And robo-dogs!  And so much more!
You're not going to find anything at the theater this weekend that's more fun than Kingsman – The Golden Circle.  By the way, I'd re-watch the first one before you see part two.  There are a lot of references from it that get quickly thrown around.
One Last Thought:
I think it's time that Jeff Bridges create a new favorite character.  He's now played the same cowboy in Kingsman – The Golden Circle, True Grit, R.I.P.D, Hell Or High Water and whatever else.  And yes, I know that the majority of those aren't even bad movies, I just want to see him do something else.