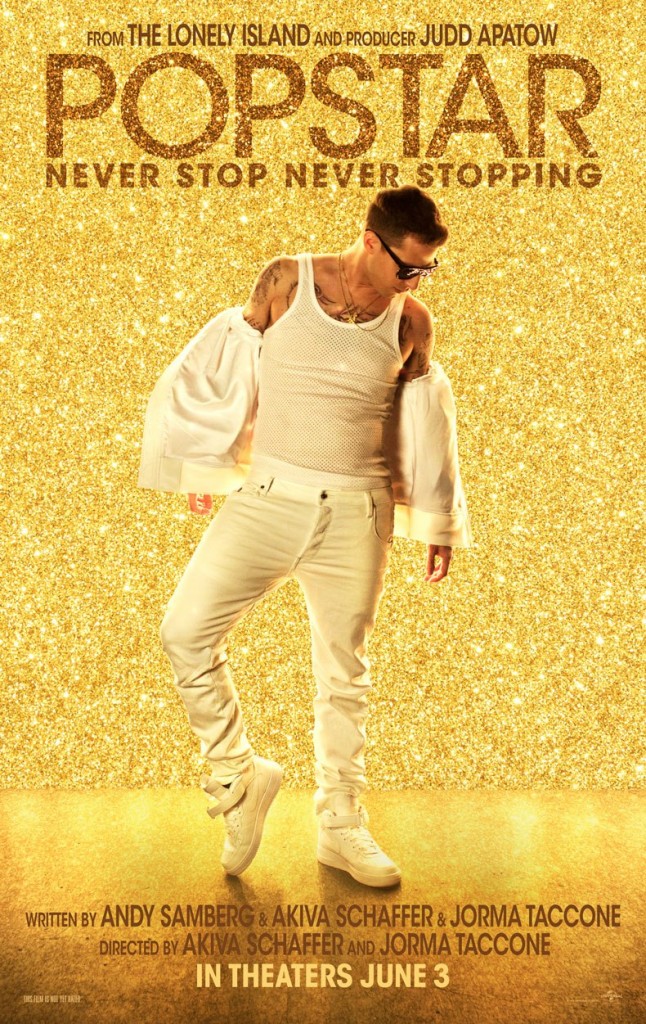 Pre-Screening Stance:
My level of enthusiasm for The Lonely Island steadily rests somewhere around a five on a scale that runs from 1-10, so it's kind of hard for me to not shrug my shoulders when it comes to Popstar.  With that being said, I have found the trailers to be pretty solid.
Post-Screening Ramble:
I've seen a few people compare Popstar to Spinal Tap, and while I wouldn't quite go that far (at least in terms of quality), I get the comparison.  The film is done in the same mockumentary style, and it certainly aims to peg artists/musicians/stars.  Popstar, however, is really frenetic and it features a lot more slapstick silliness.  In between its moments of noise though, you'll find that the film takes dumb lyrics, bloated tours, bizarre personalities, TMI social media practices, and it eviscerates all of it with the hope that the world might watch the film and then take a moment to sincerely side-eye its musical idols.  It won't happen, but it's a nice thought, and I appreciate that The Lonely Island fellas (Andy Samberg, Akiva Schaffer and Jorma Taccone) have at least floated such an grand opportunity via Popstar.
So should you see it?  Honestly, if you love The Lonely Island or you simply found the trailers to be amusing, then you already know exactly what you're in for, and you'll be happy with the results.  If you're on the fence or you're hoping for something super clever, I would advise that you dodge it.  Again, its mocking of today's pop stars is on point, but it's definitely a big ball of ADD goofiness.
One Last Thought:
In the film there's a direct stab at Macklemore and Ryan Lewis' terrible (and in my opinion, wildly offensive) track Same Love, and it's so perfect and hilarious that I almost cried tears of joy.  Those two are hacks and I sincerely hope that their pandering pile of shit song continues to be mocked.