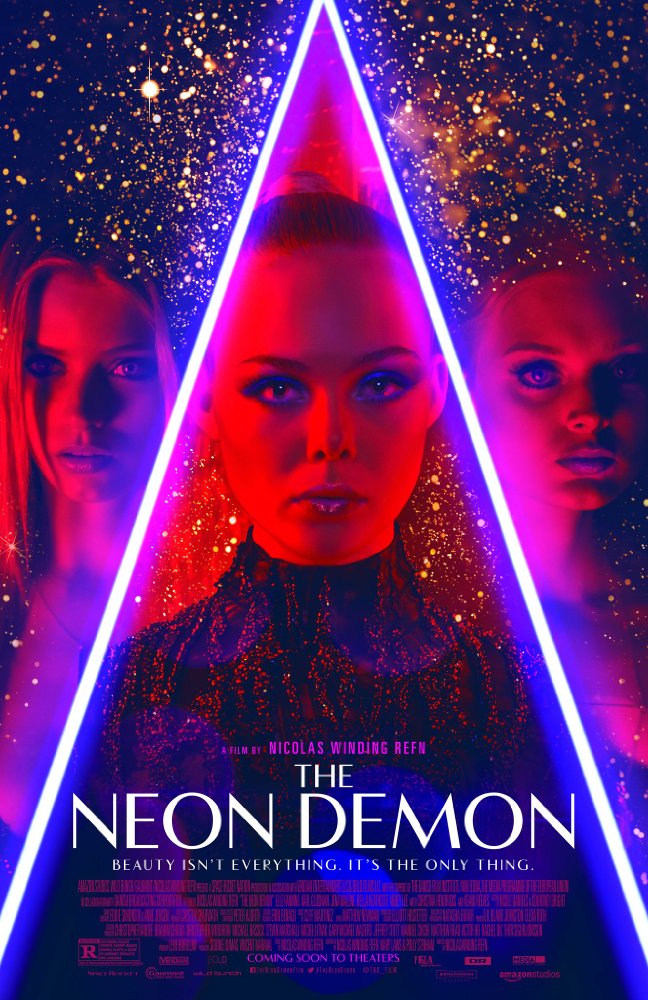 Pre-Screening Stance:
Bronson is a great movie.  Drive is a great movie.  Only God Forgives is not at all a great movie.  I'd love to say I'm feeling like Nicolas Winding Refn's latest film will be this or that, but the weird trailers for it have left me unsure of what to expect.
Post-Screening Ramble:
The Neon Demon is a heady, visceral, grotesque, beautifully shot and totally weird movie that you're either going to love or loathe.  It begins with an introduction to Jesse (a very earnest Elle Fanning), an underage girl who has made the jump from nowhere to LA in order to capitalize on the one thing that she feels like she has going for her in life – her beauty.  Right off the bat she meets Ruby (an endearing Jena Malone), a friendly make-up artist who offers her advice and help.  Only, Jessie doesn't need any help.  She's a real natural beauty, and everyone in town is immediately enamored with her even though she has no modeling experience.  What then follows is writer/director Nicolas Winding Refn's thoughts on what makes someone beautiful and what people will do to either stay beautiful or become that way.  No punches are pulled.  Like I mentioned up above, it's a film that's all at once beautiful and disgusting, and you're either going to be really into it or think that it's not your cup of tea.  Personally, I loved The Neon Demon.  It's immaculately shot, the music (and sound overall) is fantastic and Winding-Refn's cynicism hit big with me.  I can, however, see how the film may be a real test of some folk's patience.
Don't see The Neon Demon because you're hoping it's another Drive, see it because you want something with weight here in the season of fluffy box office fare.
One Last Thought:
Whenever I see Elle Fanning in something, I always think about Dakota Fanning.  Whatever happened to her?  I'm guessing the last notable movie I saw her in was The Runaways, and that was released a chunk of years ago.