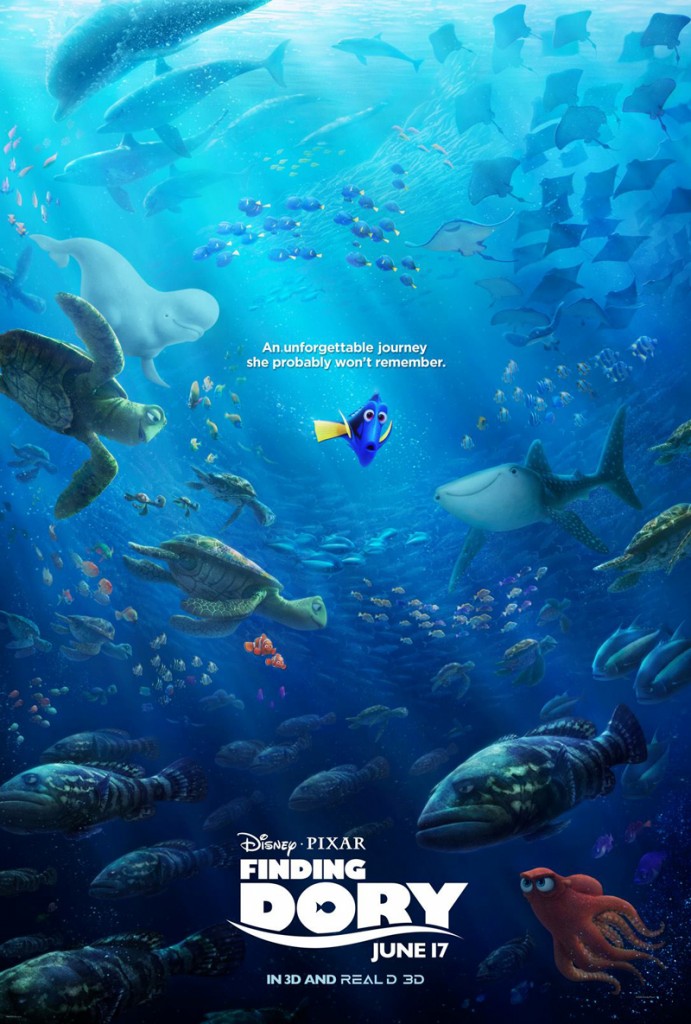 Pre-Screening Stance:
Finding Nemo is a fantastic film, a total classic with great characters and a wonderful story.  Can't say I've ever wanted a sequel though, especially one that's based around Dory.  I mean, she's certainly a wonderful little fish, but that character is a gimmick, kind of like Mater in Cars, and we all know what happened when Pixar focused on him in Cars 2.
Post-Screening Ramble:
Finding Dory isn't quite Finding Nemo, but that won't keep you from loving it.  The sequel picks up a year after its predecessor, and everyone is all happy and feeling good about life until Dory randomly gets bonked and not only remembers that she has a family, but that she accidentally got separated from them long ago.  From there a whirlwind adventure, complete with adorable little Dory flashbacks, first film callbacks, great new characters (Ed O'Neil's Hank, an octopus, is particularly awesome) and more – gets underway as Dory attempts to find her family.  It's a nice film.  Not perfect.  But nice, charming and full of heart.  And to be honest, because it so so enjoyable, I won't at all be surprised if some of you disagree with me and say it is perfect.  Personally, I believe the film has more bright-spots than anything, but it does occasionally drag and is probably 10-15 minutes too long.  I also think it suffers from some tonal issues due to the way director Andrew Stanton relentlessly tries to wring a different emotional response out of you with every single scene.  Still, some of you may not notice or even care about either of those things since the characters you love are back and have been handled with care.  C'est la vie, you know?  Now, head to theater with confidence knowing that Finding Dory isn't Cars 2.
One Last Thought:
What's funny and perhaps kind of odd is that my favorite character in Finding Dory isn't technically a character at all.  You'll know what I mean once you see the film.