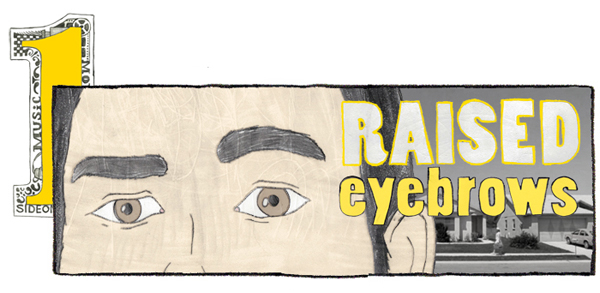 It's May! Given the wonderful weather expected by this emerald month, I thought I'd investigate one of my favorite guitars, the Jazzmaster, and the music created by it. Making its debut in 1959, the Jazzmaster was first made to rival Gibson archtop guitars preferred by jazz musicians. It didn't catch on, but over the years, it has found a home in a number of genres and on a ton of great records. Here's a few highlights:
Johnny Cash – Katy Too (1959)
Luther Perkins of Cash's Tennessee Three was an early user of the Jazzmaster. There's some photos floating around dated as early as 1958.
Roy Clark – Twelfth Street Rag (1963)
Roy shreds on this! This comes from his 1963 album The Lightning Fingers of Roy Clark.
The Staple Singers – Whatcha Gonna Do? (1965)
Pops Staples does the tremolo Jazzmaster better than any other human being on the planet. This is proof.
Clarence Carter – Snatching It Back (1969)
Here the Jazzmaster surpasses country and blues to enter the wonderful world of rhythm and blues. The twined soapbar tone and Carter's voice are a match made in soul heaven, and check out that album cover!
Danny James – Soul and Wine (1970)
I heard this on the Fai Do Do program on 91.7 KOOP recently. Came out on the Goldband Records label in 1970. Dude is holding a Jazzmaster on a compilation CD so I figure …"lay down some soul and get some cheap wine."
Elvis Costello – Watching The Detectives (1977)
The Jazzmaster fell out of fashion in the 70's. Les Paul's and Strats became the norm until this nerdy dude named Declan MacManus declared himself to be Elvis Costello and sported a Jazzmaster on the cover of his landmark 1977 album, My Aim Is True.
Television – Foxhole (1978)
After their seminal 1977 recording Marquee Moon, Television brought their intergalactic guitar interplay back for the sophomore record Adventure. It doesn't get the love that their classic does, but Verlaine's guitar work on Foxhole is PURE HEAT.
Lizzy Mercier Descloux – Wawa (1979)
Legend has it, Lizzy (from Paris) decided in order to make it as an artist, she had to move to New York. There she met Richard Hell and bought a Jazzmaster. Her tune Wawa is a prime example of what the Jazzmaster was capable of, in both No Wave and New Wave.
The Cure – 10:15 Saturday Night (1979)
Believe or not, Robert Smith was known to sport a Jazzmaster early on in the career of The Cure. This track captures some of the harmonic uses of the Jazzmaster that other bands would take to further limits in the near future.
Sonic Youth – Silver Rocket (1988)
Almost ten years later, Sonic Youth hits with their biggest record, Daydream Nation. Here the Jazzmaster goes from being a cheap anomaly to an icon of underground rock that's still being seen today. The techniques this band forged with the instrument helped to not only reinvent it, but also send its value soaring.
Luna – Sideshow by the Seashore (1995)
Sean Eden of Luna is a well known Jazzmaster user. This tune is a high mark for American rock music.
Yo La Tengo – Cherry Chapstick (2000)
Ira Kaplan wields a cherry red Jazzmaster for this tune at shows. One of YLT's purest tunes.
Nels Cline – Cause for Concern (2002)
I was on the fence with Nels as a member of Wilco, but after hearing The Nels Cline Singers album Instrumentals, I was convinced the dude is one of the finest Jazzmaster players around today.
Marnie Stern – The Things You Notice (2010)
FACT: Marnie Stern is a completely unique Jazzmaster player. Her playing and approach is unlike anyone else and that makes her polarizing for folks. I'm down with the Marnie sound.
Noveller – Concrete Dreams (2015)
Sarah Lipstate has recently been seen sporting a Jazzmaster. Her solitary soundscapes are incredible examples of where the instrument could be headed. Her latest album Fantastic Planet is BEYOND.
Note: Yeah, I left off some people. Tell me who and why should they have been mentioned?