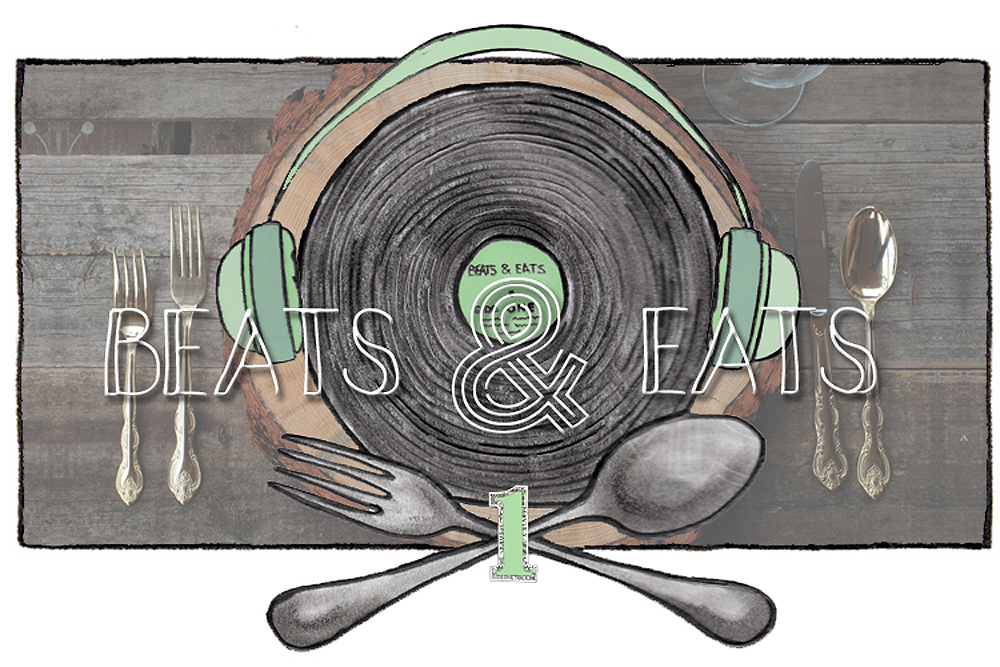 Beats & Eats is a mixtape and a meal. A collection of tunes (sometimes there's a theme, sometimes it's just whatever I'm into this month) and a recipe to cook (bake, mix, whatever) while you listen to the songs. Enjoy!
-
Earlier this month, music blog Consequence of Sound published a listicle on the Top 20 Deftones songs of all time. The Sacramento, CA quintet just released their eighth album, Gore, to critical and fan acclaim, so a career spanning listicle seems like the right thing to do. And the critics are right. Gore is really good.
I've always loved Deftones. The band changed what I thought metal and hardcore music had to sound like. Moody and emotional with pummeling riffs. Drummer Abe Cunningham's beats are the unheralded backbone of the band and a huge influence on me as a drummer.
There's nothing wrong with Consequence of Sound's Top 20, in fact it's fairly good, but it wouldn't be my Top 20.  For no particular reason other than my own enjoyment, here is my Top 20(ish) Deftones songs along with a recipe for Spaghetti Squash Tacos. Because nothing is more metal than Spaghetti Squash Tacos.
Bored, Deftones' 'side one, track one, album one,' kicks things off. Sure — nobody likes the guy who was 'listening to band XYZ before anyone else was listening to band XYZ,' but I vividly remember my bestie Ivan Torres Torres bringing Deftones Adrenaline to school and letting me borrow it for the weekend (Ivan's version of the story may or may not involve the CD being returned scratched to shit and the case cracked – oh well).
I'd like to think this mixtape spans the length of Deftones' career, including newer cuts from Koi No Yokan (Swerve City), Diamond Eyes (You've Seen the Butcher) and new release Gore (Doomed User). But in reality, this mix probably errs heavily on the band's early stuff, Adrenaline and White Pony, especially.
You might have noticed by now that this playlist is 24 songs long. Missing from the COS Top 20 were the Deftones covers. The band has always chosen good songs to cover, and I love a good cover song. Depeche Mode's To Have and To Hold kicks off this Deftones cover block, tracks 8A – 8D, followed by The Chauffeur (Duran Duran) and the even more unlikely No Ordinary Love (Sade). Jawbox's Savory closes out the set of covers, with the last two featuring former Far and Onelinedrawing frontman Jonah Matranga.
An assortment of moody (Passenger, Be Quiet and Drive (Far Away), Good Morning Beautiful), aggressive (Rocket Skates, Hexagram, Acid Hologram) and rap metal efforts (Engine No. 9 cause I had to) round out my Deftones Top 20 (yeah, yeah, 24).
-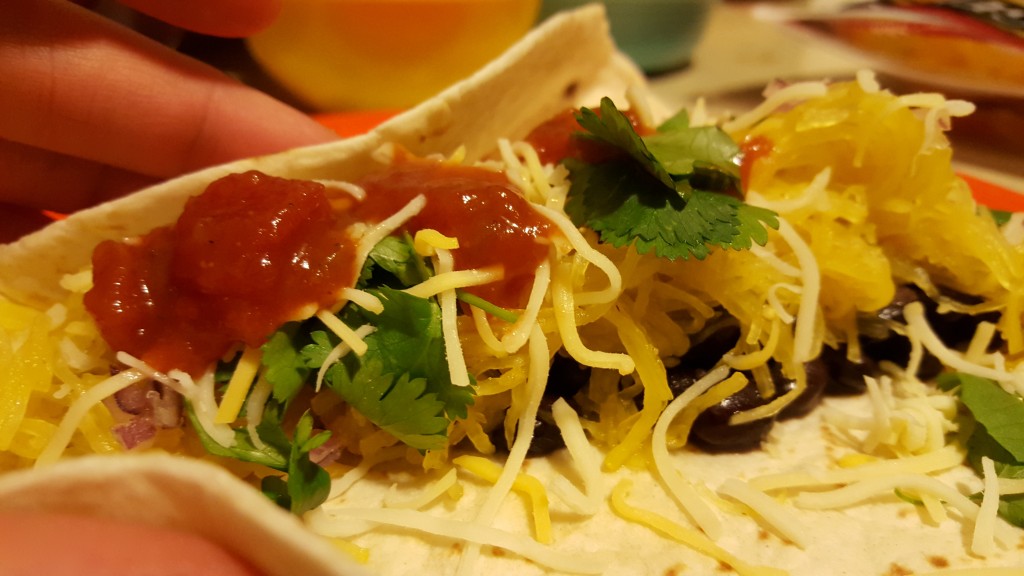 Spaghetti Squash Tacos
INGREDIENTS:
- 3 lbs (1 large or 2 small) spaghetti squash
- tortillas
- 1 can black beans, rinsed and drained well
SQUASH SEASONING:
- 1 teaspoon chili powder
- 1/2 teaspoon ground cumin
- 1/2 teaspoon ground coriander
- 1/2 teaspoon coarse salt
- 1/2 fresh squeezed lime
GARNISH:
- 4 ounces crumbled queso fresco, feta, or cojita cheese
- 1 avocado
- 1/4 cup finely diced red onion
- 1/4 cup fresh cilantro leaves
- hot sauce (Sontava or Cholula)
- lime wedges
RECIPE:
- Preheat oven to 375 degrees and spray pan with coconut oil cooking spray or coat with 1/2  ounce of olive oil. Cut squash in half lengthwise, scoop out the seeds and roast the halves facedown on baking pan for 35-40 minutes or until flesh is soft.
- Once the squash is cooked, remove and allow to cool 5 minutes, then scrap the flesh with a fork to loosen and separate the strands. Add strands of flesh to bowl and discard skins.
- In a separate bowl, combine chili powder, cumin, coriander, and salt, whisk in lime juice and pour over squash strands. Gently toss to mix seasonings throughout, taste and adjust seasonings accordingly.
- To assemble the tacos… oh what the fuck you know how to assemble a taco. Warm em up, put down some beans, put down some spaghetti squash.
- Garnish with cheese, avocado, cilantro, onion,  couple drops of hot sauce  and a squeeze a lime.
- Serve with an ice cold Modelo Especial.