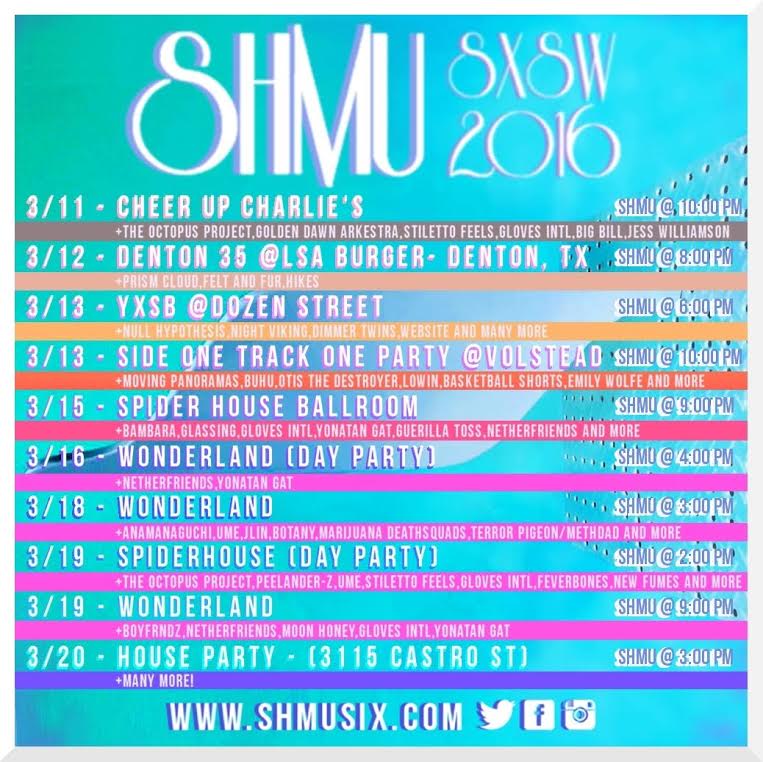 Mr. Sam Chown – the main brain behind Austin's Shmu – reached out this week to let me know that he had two things he really needed shared – a slew of tour dates and a brand new video.  I figured you could use both, so here we are.  Check out the dates either up above or down below, and then watch the trippy video for Diamonds, which was directed by Joel Coronado (he plays bass in Shmu).  Enjoy.
PS – You should also check out GTZ Records.
Here are Shmu's upcoming dates in text form (just in case).
- Friday, March 11 – Austin, TX – GTZ Records Presents at Cheer Up Charlies with The Octopus Project & Golden Dawn Arkestra
- Saturday, March 12 – Denton, TX – Denton 35 with LSA Burger Co. (8pm)
- Sunday, March 13 – Austin, TX – YXSB at Dozen Street (6pm)
– Sunday, March 13 – Austin, TX – Austin Town Hall & Side One Track One Showdown at Volstead (10pm)
- Tuesday, March 15 – Austin, TX – GTZ Records Presents at Spiderhouse Ballroom with Netherfriends & Guerilla Toss (9pm)
- Wednesday, March 16 – Austin, TX – Wonderland Day Party with Netherfriends & Yonatan Gat (4pm)
- Friday, March 18 – Austin, TX – GTZ Records Presents at Wonderland Jlin Narlei, Ume, Stardeath and White Dwarfs, ANAMANAGUCHI (3pm)
- Saturday, March 19 – Austin,TX - The Octopus Project Showcase at Spiderhouse (2pm)
- Saturday, March 19 – Austin, TX – GTZ Records Presents at Wonderland with Boyfrndz, Netherfriends, Moon Honey (9pm)
- Sunday, March 20 – Austin, TX – House Party at 3115 Castro St (3pm)