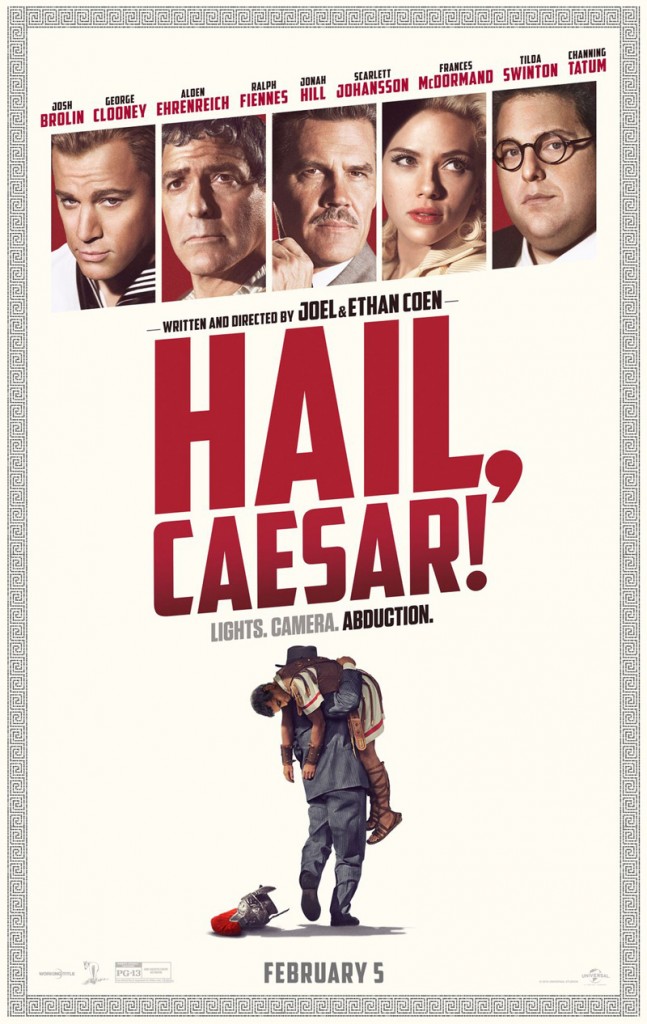 Pre-Screening Stance:
While I didn't care much for Joel and Ethan Coen's last film, 2013′s Inside Llewyn Davis, I'm still really looking forward to Hail, Caesar.  It looks fun.  Also, it's the damn Coen brothers!  Even their bad films are tolerable.
Post-Screening Ramble:
Somewhere around the halfway mark of Hail, Caesar I finally realized what it reminded me of – The Hateful Eight.  Yes, I know that sounds crazy, but before you close out of this tab and get on with living your life, let me ramble for a moment to explain why my brain made such a seemingly strange connection.
Both are immensely self-indulgent films made by directors with the clout to do whatever they want.  The Hateful Eight is Quentin Tarantino playing in a world/genre that he loves, and while he made something entertaining, there's no real story to be found.  It's just thick dialogue, great cinematography, heavy violence and enough tip of the hat bits to circle the globe.  As for Hail, Caesar, it's the Coen brothers straight up playing off of their wonderment for old Hollywood.  The film is full of wordy dialogue, beautiful cinematography, an enormous amount of references and – in place of the violence and vulgarity in The Hateful Eight – a screwball-ish sense of humor.  I enjoyed Hail, Caesar, but I can't say that I loved it.  There's no real plot or anything substantial to grab onto in the film – it really is just the Coen brothers playing around.  If that sounds like a good time to you, then run out and see Hail, Caesar.  If you're hoping for something that has more weight to it though, then you may want to save a few bucks and wait until the film is available for home consumption.
One Last Thought:
Alden Ehrenreich (Blue Jasmine, Stoker) as Hobie Doyle easily wins out as my favorite part of Hail, Caesar – he's so charming and endearing as the very Southern character.  Here's hoping the performance opens some doors for him.