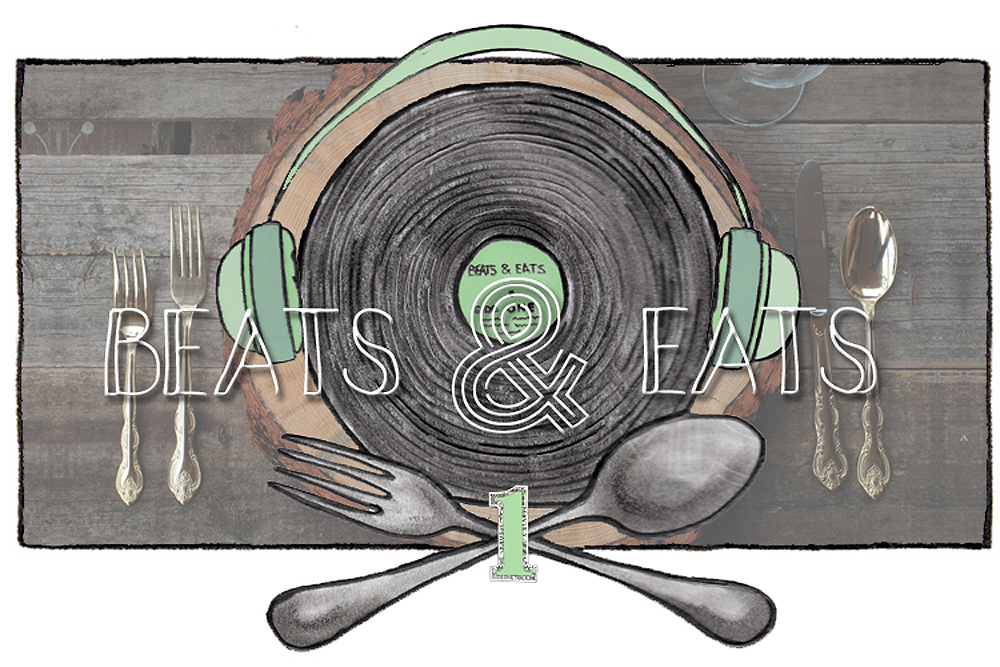 Beats & Eats is a mixtape and a meal. A collection of tunes (sometimes there's a theme, sometimes it's just whatever I'm into that month) and a recipe to cook (bake, mix, whatever) while you listen to the songs. Enjoy!
-
February is my better halfs' birthday month (she's a leap year babe, so she gets to celebrate whenever she wants, generally all month), so that got me thinking: Parties. Party Music. And salsas! Beats & Eats: Volume 2 "New Jack Edition" is all things New Jack Swing.
-
Quick history lesson: In 1987, Teddy Riley is singing Groove Me in Guy and perfecting a signature production style that blends hip hop beats, R&B grooves, and Gospel trained vocals. This sound becomes a staple of 90s popular music. According to Wikipedia, the first tracks to feature the New Jack Swing style of production appear a year earlier, on Janet Jackson's Control in 1986, produced by Jimmy Jam and members of the Time. No doubt an influence on Riley. After disbanding Guy, Riley goes on to produce tracks for Michael Jackson, Keith Sweat, Bobby Brown, and form two new groups, producing his brother Markell Riley's Wreckx-n-Effect, and Blackstreet (No Diggity). It's 1996 and New Jack Swing is in it's heyday.
I exercised two "phone a friends" (is that a dated reference yet?) and called on Kellen Kid Slyce Chumley and Yadira Brown to help me with this month's playlist and recipe. Kid Slyce is a notorious party starting DJ in Austin, TX, known for his semi-monthly New Jack Swing dance parties, and Brown is 1/3 of ultra-talented vocal trio Keeper. She's also an excellent cook and her recipe for Columbian aji picante is mouth-watering.
"Mary J Blige's Real Love would be my all-time favorite," Yadira says. "I think it was the harmonies over dance beats, honestly, that made me love New Jack Swing. I was in 4th grade when [Boyz II Men] Motownphilly came out, and I'd rewind and listen to the breakdown over and over, trying to learn all the parts."
My love for this sound admittedly came later, fresh out of college and bartending Saturday nights at Austin dance club Plush, where Kid Slyce and his partners in Tables Manner Crew spun the best New Jack Swing and hip hop cuts.
"New Jack Swing takes DJ'ing back to a place where dancing and good vibes were paramount," Chumley told me. "The music and lyrics are relatable. The majority of [rap and R&B] today is mired in trap and unrelatable if not incomprehensible."
The two hours of tunes on Beats and Eats: New Jack Edition run the gamut of the New Jack sound, and 90s R&B in general. Godfathers Guy, Janet, Keith and Johnny Gill. Soulful sisters Monica, Aaliyah, TLC and SWV. And some deeper cuts thanks to Kid Slyce! What's missing? Well, Another Bad Creation, Wreckx-n-Effect and Color Me Badd, to name a few. Hey, not every musical trend produces pure gold! Dig your Jock Jams cassettes out of your mom's attic if you wanna hear any of those bangers.
This playlist is guaranteed to get any party started. And this salsa is pure fire. Literally.
Columbian Aji Picante by Yadira Brown
Ingredients:
- 1 seeded small jalepeno or 1 red habanero pepper
- ½ cup white vinegar
- ¼ cup water
- ¼ teaspoon salt
- 1 teaspoon sugar
- 1 tablespoon grapefruit juice
- 2 tablespoons vegetable oil
- ½ cup chopped fresh cilantro
- ½ cup chopped scallions
- ½ cup chopped tomato
Instructions:
- put the seeded pepper, water, and vinegar into a blender or food processor for a few minutes
- then combine with the rest of the ingredients and refrigerate, preferably over night.
- best served with empanadas or patacones.