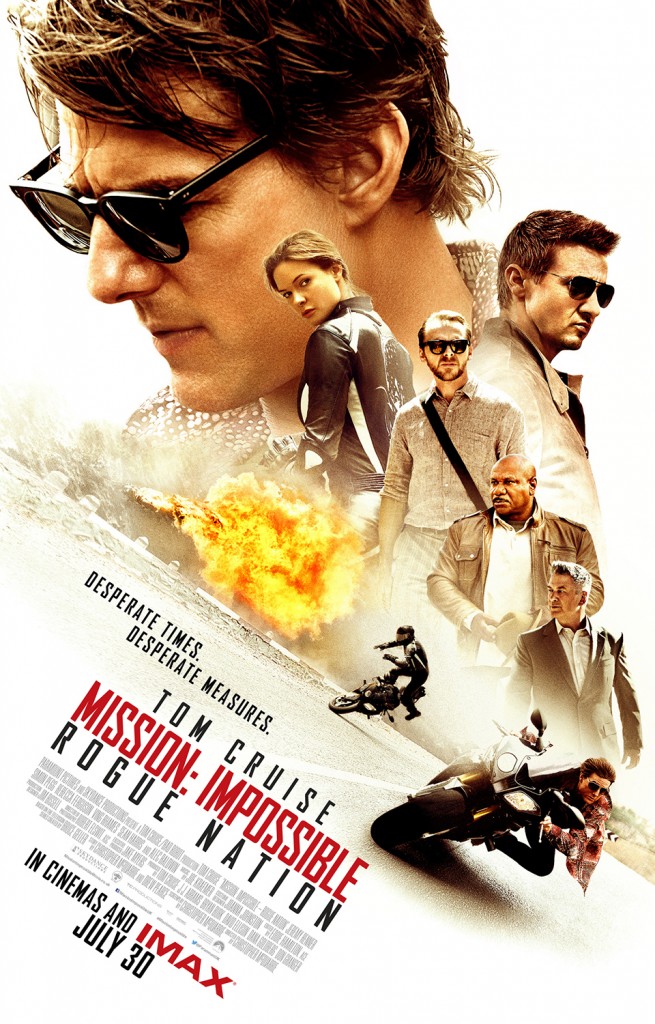 The Impression:
The fifth entry into the Mission: Impossible series has arrived.  There's no reason to not be excited.
The Reality:
If I were to count how many truly bad movies that Tom Cruise has been in, it wouldn't come anywhere close to the number of shitty films I've seen in just 2015 alone.  The guy knows how to pick 'em, so I honestly went into Mission: Impossible – Rogue Nation with the utmost confidence.  And why wouldn't I?  The very talented Christopher McQuarrie (Jack Reacher, Edge of Tomorrow) both wrote and directed it, the trailers have been good, and – again -  it features the always reliable Tom Cruise.
As it turns out, I wasn't wrong to assume the movie would be good.  Rogue Nation is a wildly entertaining film that's pretty much the best Mission: Impossible entry yet.
The story isn't too original – there's a secret organization that's bent on twisting the world to fit its own agenda – but that doesn't really matter.  Overall, the film is epic (the airplane scene, the underwater sequence, the car/motorcycle chase), grounded (anything to do with Simon Pegg), cocky (all things Cruise and/or Ving Rhames), tense, twisty and funny when it needs to be, and it all amounts to something that very much never stops trying to engage you.  How many action flicks can lay claim to that?  Most try to dazzle you to the point to where you'll willingly zone out until the next big scene, but Rogue Nation actually wants to steadily hold your attention.  I found this to be really impressive.
Those of you on the hunt for an entertaining action film will find a lot to love in Mission: Impossible – Rogue Nation, and I recommend that you see it ASAP.  If you're not currently searching for such a thing, then why in the world would you even consider seeing it?  Stop being silly!
The Lesson:
I've said it before and I'll say it again, I'll watch anything featuring Tom Cruise.  The guy is 100% committed to his craft and I both love and appreciate his unlimited enthusiasm to entertain.