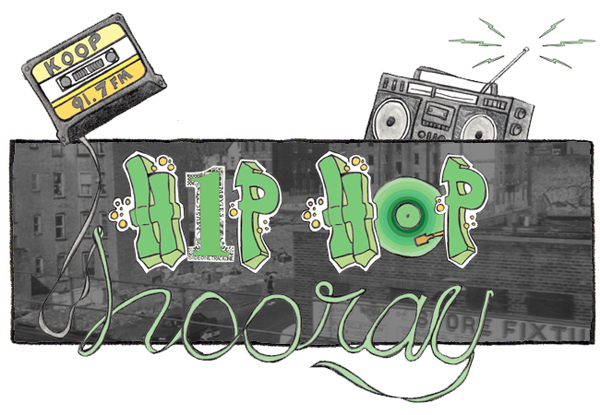 Guys. It's been raining here. Like crazy, biblical rain.  People have lost lives and houses (not me – probably mostly people who didn't deserve for that to happen to them).  If you have a heart and can help, please do so here or here.
In other news, there are some great hip hop shows coming up in our fair, sopping city.  Tonight, there's Bird Peterson and Bleubird, along with some great local acts (like KB the Boo Bonic,who you'll find on this month's mix) at Holy Mountain, and there's the Geto Boys on June 13 at the Mohawk.  Also, on June 17 there is probably the most bangin' show of the year if you're a throwback hip hop head like John Laird definitely is (right, John?) because it's the reunion tour of the Cali Agents at Holy Mountain.
By the way, your time seeing hip hop shows at venues like Holy Mountain could be very limited, so please take the time tonight and next month to show this venue you care and you are grateful for the many great shows it's brought and how open and accepting of local music it's been, because I sure am.  In fact, right now I'd like to extend a big huge gigantic thanks to James Taylor, Sam Houdek, Ivan Torres, and everyone at what I affectionately call "HoMo" for always being ready to put on a local hip hop show, extend a guarantee, believe in the scene (and me), and be willing to take a risk to put locals on a bill.  You all are the best and serve the strongest Lone Star.
Since the above has been 60% shitty news, here's a music joke:
-What rock group has four men that don't sing?
-Mount Rushmore.
(sorry)
 SONG OF THE MONTH:  :Bleubird – Down Like Brothers feat. Radical: (See this white muthafucka TONIGHT at Holy Mountain!)
:Lyrics Born – Pack Up Remix:
:M.I.A. – Bucky Done Gun:
:A Tribe Called Red – The People's Champ:
:Bird Peterson – Comfortable:
:Hudson Mohawke – Ryderz:
:Vince Staples – Senorita:
:Lil' Jazzy Jay and Cool Supreme – B Boy Style:
:King ART – Are We There Yet: (check my recent interview with King ART and his producer Ruler Why HERE)
:Zion I – Unity feat. Bambu & D.U.S.T.:
:KB The Boo Bonic – Daddy Baby:
:Shad – Yaa I Get It (Oddisee Remix):
:Dead Prez – Police State:
:Modal – Diggin: (interview HERE)