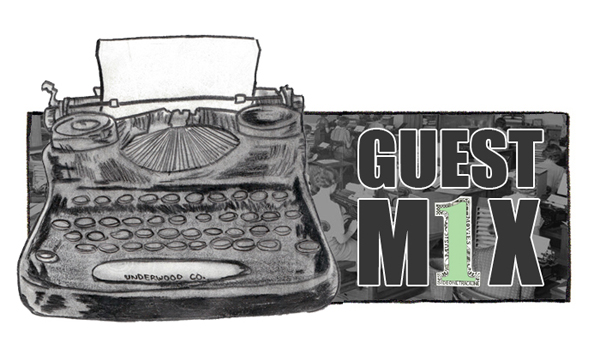 Here's a guest mix from the one and only Chad Swiatecki!  He routinely writes for much fancier sites/publications/things than this one, so I have no idea why he agreed to do this post. It's rad to have him though!  Follow him on Twitter and then dive into his Sleater-Kinney-themed post.  Enjoy.
—
For a while it felt like there were cosmic forces conspiring to keep me from seeing Sleater-Kinney in concert, despite being a super-duper fanboy since Dig Me Out in 1997. Through a totally "WTF?" combination of work, family and truly odd life circumstances while I was still living in Michigan, I missed them every time they came through Detroit, and then when they called it quits in 2006 or so it looked like I'd lost one to the history books.
Now reformed and touring behind the very worthy No Cities To Love, I wasn't going to miss them this time around and their taping of Austin City Limits on Wednesday night became one of my most anticipated concert nights in years. Since I'd had such a limited perspective on the band (only recordings, no live exposure) I figured it'd be interesting to muse on some of my favorite SK songs from the set, and see if my appreciation for those songs changed much after finally scratching my 18-year itch.
—
Price Tag
If I'm being honest, No Cities To Love hits me as a perfectly fine SK album but feels a bit too measured than I'd like after a decade or so out of the studio. Part of that is these three women are now in their 40s and way removed from the twentysomething fury and passion that made Call The Doctor and Dig Me Out such raw nerve classics. Lots of the band's signature touches are here – intertwined guitar tension, Janet Weiss' sledgehammer drumming, Corin Tucker's yelp-through-an-ambulance-siren-speaker vocals – but, I dunno, this single never grabbed like I'd hoped.
—
Ironclad
Here's my sweet spot for the band, where they started to tap into the Zeppelin-level power of 2005's The Woods. This is a song that has gained a lot from the trio's later material because live it had even more bottom and force and rolled like a goddamn panzer tank. If you want proof that Sleater-Kinney has not mellowed one bit in their time away, go no further than Ironclad. It'll knock the wind out of you.
—
Get Up
Talking about the band feeling too measured on their new album feels like a minor gripe compared to the initial reaction in 1999 when the band dropped this, the first single from The Hot Rock. The precise and restrained guitar work of those songs felt like an affront, as if Tucker and Carrie Brownstein had locked themselves in a room with nothing but their Television records for a few months. History has been kind to this period for the band – The Hot Rock is one of their most accomplished records – and live on Wednesday night Get Up felt far more fleshed out and personal than its recorded counterpart, which was a welcome accomplishment.
—
Words And Guitar
The band's earliest material reflected their youth and limited songwriting chops – trading mostly on angst and vigor – and were typically over in a blur of two verses, two choruses and not much else. Words And Guitar, all two minutes and 20 seconds of it, is very much from that school but also shows the footsteps that led them to much more sophisticated compositions (at least as sophisticated as two guitars and a drum set can get). There's some nice Pixies-ish quiet/loud vocal work, Brownstein developing into a singular guitar talent and the plainly weird move of kicking off the song with its chorus. It's a quick but deceptively advanced bit of punk songwriting acumen that's easy to overlook.
—
Entertain
From the period when it wasn't unreasonable to think that Janet Weiss had conducted a séance and summoned John Bonham's spirit into her body. Because, holy moly, this song was a beast on record 10 years ago and hasn't let up one bit in the intervening years. One weird note; over the course of an hour-plus on Wednesday the women of Sleater-Kinney delivered a righteous rock show that hit on all cylinders and somehow didn't break a sweat the entire time. No idea how that's possible, but I was front row stage right and saw them remain composed and unmussed the entire way.
—
I Wanna Be Your Joey Ramone
Here's something to chew on: 19 years on from Call The Doctor, Sleater-Kinney is as removed from its punk beginnings as The Ramones were when Tucker first sang about wanting to be her generation's Joey Ramone. That's not exactly as jarring as a 71-year-old Roger Daltrey singing about wanting to die before he gets old on The Who's 50th anniversary tour this year, but it's a definite reminder that time marches on. The vocal shrieks and bellows from Tucker and Brownstein that first set this song apart don't have the same hair-on-fire urgency they once did, but one of the band's signature songs still stands up tall as one of its best.