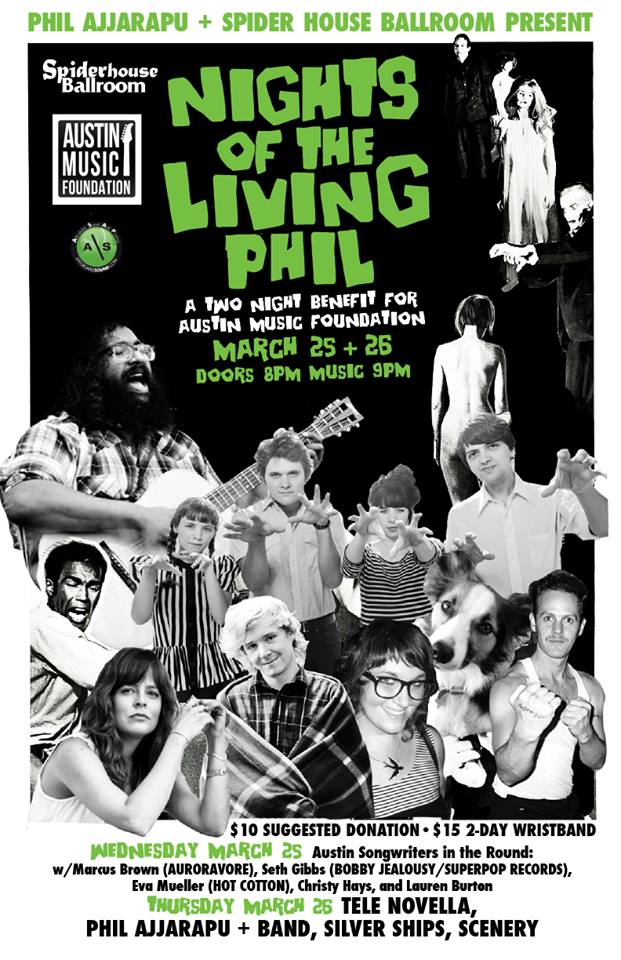 On March 26, 2012 Phil Ajjarapu flew off an Austin highway overpass from his motorbike, survived against all odds, and committed his life to music. When he was raising money to make his album in 2013, he shared "I remember being in the hospital thinking that I need to make this album, even if no one bothered hearing it, even if it didn't mean anything to anyone but me. If I had died without making it, that would have been the one thing I really regretted, and I couldn't stand the thought of dying with regrets."

This week Spider House Ballroom is hosting Nights Of The Living Phil, a two-night celebration of his story that's also doubling as a benefit for the Austin Music Foundation. Tonight Phil is doing a songwriters in the round event with fellow local artists Marcus Brown (Auroravore), Seth Gibbs (Bobby Jealousy/Super Pop Records), Eva Mueller (Hot Cotton), Christy Hays and Lauren Burton. Tomorrow night will include a performance from Phil and his band as well as Tele Novella, Silver Ships and the live debut of Scenery.
This is a worthy event highlighting some top notch local talent along with benefiting the work of the Austin Music Foundation, which provides education and outreach programs for the local music community. There is a $10 suggested donation each night. $15 gets you a wristband for both nights.