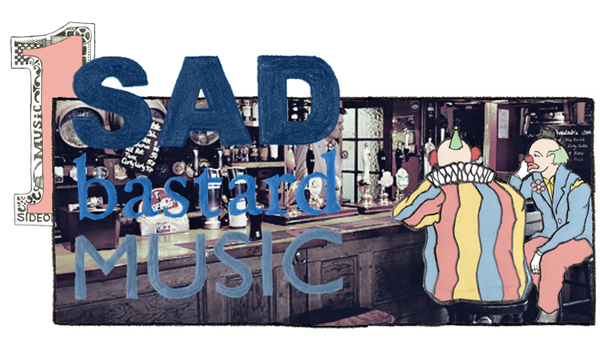 The shortest month of the year also just so happens to pack the biggest lonely punch, doesn't it? Austin Monthly recently reported that "whether you're strictly against saccharine displays of affection and the commercial aspect of Valentine's Day or have recently ended a relationship, there's a night just for you and your fellow lonely hearts." The night of course in reference is NO DANCING: Sad Bastard Music in the heart of the sad, sad city of Austin Texas. A monthly gathering to get down. In honor of the holiday of heart shape boxes, this column will treat you to a lil mix of nothing but songs about breaking up, cheating and the subsequent misery and falling tears.
Let's listen to the sounds of people's relationships fall apart through the computer speakers shall we?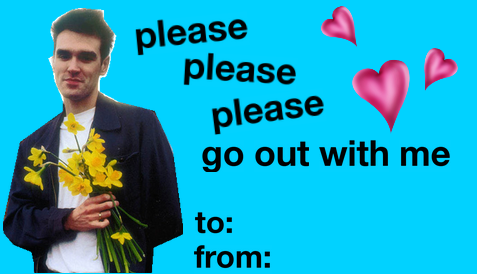 :The Smiths – Heaven Knows I'm Miserable Now:  The proper etiquette is to begin with the Mozz, patron saint of heartbreak song. This midtempo little ditty branches out from your basic confusion-centered heartbreak, goes beyond and even gets into dissatisfaction in the workplace. When it rains it pours and with this one, like all true great Smiths songs, it also manages to make you sway your giant pompadour back and forth a little.
:Pedro The Lion – Second Best:  From one of the best breakup albums Control, this monotone crooning laid atop of When the Levee Breaks drums gets down and dirty into the desolation of having someone else chosen first. This symphony of misery builds and builds and builds and builds until finally you and your true sad song loving pals will know the joy of closing your eyes at the climax and belting out at the sky "What's wrong with second best?!"
:The Ataris – Giving Up On Love:  There's a great poppunk anecdote in here about a bride-to-be leaving her fiancé for Billy Idol and/or his touring band. In 23-year-old pop punker Kris Roe form, this is representative of the human condition. The never-ending cycle of love, heart break, write a song about it, rinse and repeat plain and simple "really kinda sucks." Sidenote: if you're a fan of the Ataris seminal album Blue Skies, Broken Hearts … Next 12 Exits, the dudes are mounting a national tour to cash in on the nostalgia that I confess I very much have!
:Descendents – She Don't Care:  Giving all of your love to a relationship while someone just plain doesn't care is a ostensibly natural human circumstance that seemingly has created an entire industry of well paid couples therapists. Here, Milo looses a wife, a lover and a best friend. Everything evaporates and everything sucks.
:Elliot Smith – Everything Reminds Me Of Her:  Trying to get on with your life, trying to get along in social functions, trying to move forward and becoming a contributing member of civilization when the brain and the heart simply aren't ready. Heck, even something as minute and as a natural as a SHADOW can bring you down to a puddle of seemingly infinite depression like a figure 8. Why should I lie? It can suck. This song nails it in a way that only the ol heart stabber (Figurative. Literal.) can.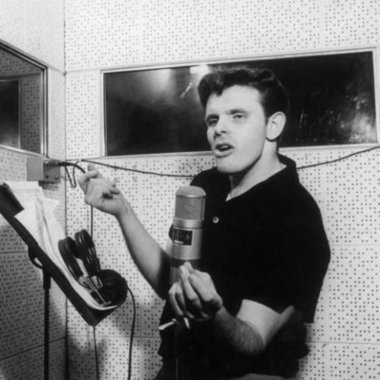 :Del Shannon – Runaway:  Great. Something went wrong with a strong love and now you're standing in the rain, confused, wishing, wa-wa-wa-wondering where the girl that stole your heart is staying with tonight. Add in a hauntingly shrill, yet zippy little organ sound made on on a clavioline-based electric keyboard called a Musitron!
:Jim Stafford – My Girl Bill:  Just listen.
SONG OF THE MONTH: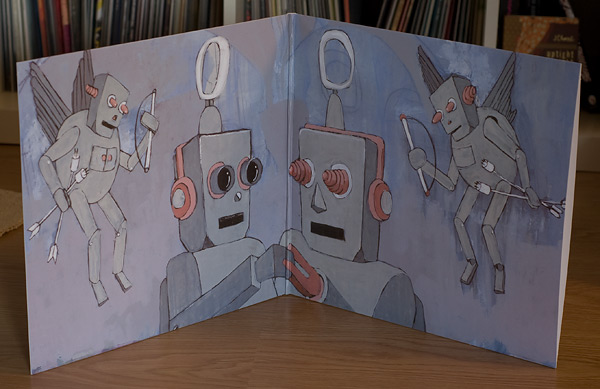 :Get Up Kids – Valentine:  "Will you be my valentine if I'm a world away?" The protagonist is living a road warrior lifestyle, presumably inspired by the tribulations of a successful emo band on tour, but could just as easily be one of those George Clooney business men types from Up In The Air. Distance makes the heart grow fonder but also wages war and leads to a sea of apologies as a result. Good intentions are just that – intentions, the truth is that being a world away can break down and disintegrate a relationship. We've heard it a thousand times where what was once second nature becomes alien. The bit about forgetting the words to anniversary songs always gets me. Despite the polite and formal inquiry about being this protagonist's special Valentine – I'm guessing that the answer is a Lisa Simpson to Ralph Wiggum level rejection. Hey, "constants aren't so constant anymore."
Goodbye. And Happy Valentine's Day!