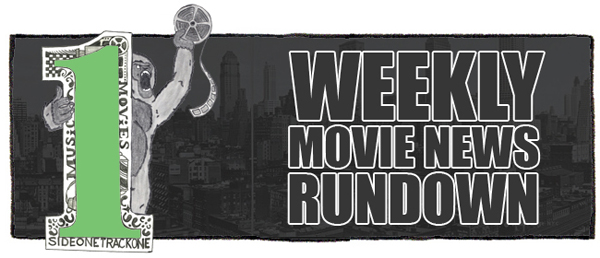 Time for your weekly movie news update!  Below you'll find a slew of sentences meant to provide a brief glimpse of what's been going on over the past week in movieland.  If something leaves you desperate for more info, then my advice is to do a little extra research on one or all of the following fantastic sites:  Latino Review, Dark Horizons, Ain't It Cool News, CHUD and/or JoBlo.  Read on!
Rumor has it that Batman VS Superman: Dawn Of Justice has been split into two films.  If true, the first half, Enter The Knight, would land in theaters this October, and the second part, Dawn Of Justice, would arrive in March of next year.
Michael Keaton is reportedly looking at joining the cast of Kong: Skull Island.  Tom Hiddleston and JK Simmons are already set to star in the film.
Melissa McCarthy is said to be in talks to join Paul Feig's Ghostbusters reboot.
Scarlett Johansson is set to star in Rupert Sanders' live action take on Ghost In The Shell.
Reese Witherspoon, Matt Damon, Neil Patrick Harris, Alex Baldwin and Jason Sudeikis are all set to appear in Alexander Payne's dramedy Downsizing.  It's said to be about a down-on-his luck a man who realizes he would have a better life if he were to shrink himself.
Pedro Almodovar's new film, Silencio, is set to begin filming in April.
The Purge 3 will be released on July 1, 2016.
Elle Fanning is set to star in Nicolas Winding Refn's horror film Neon Demon.
Gary Whitta is no longer writing Gareth Edwards' Star Wars spinoff.  A replacement has not yet been announced.
Iko Uwais, Yayan Ruhian and Cecep Arif Rahman (all from The Raid 2) are rumored to have some sort of part in Star Wars: The Force Awakens.
Liam Neeson is set to star in the remake of The Escapist.  Rupert Wyatt (The Gambler) directed the original film.
Bradley Cooper may make his directorial debut with the drama Honeymoon With Harry.
Michael C. Hall (Dexter) and Wes Bentley (Interstellar) have joined the cast of the Pete's Dragon remake.
Will Ferrell and Josh Gad may star in Russ & Roger Go Beyond.  The film is said to explore the friendship and working relationship between Russ Meyer and Roger Ebert.
Channing Tatum's Gambit movie is set to be released on October 7, 2016.
Rumored contenders for the role of young Cyclops in X-Men: Apocalypse are Taron Edgerton (Kingsman), Jamie Blackley (If I Stay) and Tye Sheridan (Mud).  For young Jean Grey it's supposedly down to Sophie Turner (Game Of Thrones) and Saoirse Ronan (Hanna).  Alexandra Shipp (Aaliyah: The Princess Of R&B) and Zendaya Coleman (Zapped) are said to be up for the role of young Storm.
This Week's Notable Trailers