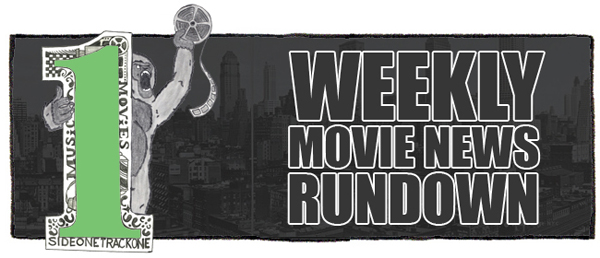 Time for your weekly movie news update!  Below you'll find a slew of sentences meant to provide a brief glimpse of what's been going on over the past week in movieland.  If something leaves you desperate for more info, then my advice is to do a little extra research on one or all of the following fantastic sites:  Latino Review, Dark Horizons, Ain't It Cool News, CHUD and/or JoBlo.  Read on!
Steve Jobs has started filming.  The Danny Boyle-directed, Aaron Sorkin-scripted movie is set to star Michael Fassbender, Kate Winslet, Seth Rogen and Jeff Daniels.
Rumors has it that Disney wants Chris Pratt to play Indiana Jones in a reboot of a the series.
Melissa McCarthy, Kristen Wiig, Leslie Jones and Kate McKinnon are set to star in Paul Feig's reboot of Ghostbusters.
Liam Hemsworth has reportedly been offered the lead role in Roland Emmerich's ID Forever (the sequel to Independence Day).
Luke Evans is no longer attached to the remake of The Crow.
Emma Watson is set to star in the live-action remake of Beauty And The Beast.
Peter Berg has replaced JC Chandor (A Most Violent Year) as the director of Deepwater Horizon.  Mark Wahlberg is still set to star in the disaster film.
David Leitch and Chad Stahslski (John Wick) may direct Chris Pratt in Cowboy Ninja Viking.
Noam Murro (300: Rise Of An Empire) is set to direct Blink, which is said to be about a paralyzed man who has to outwit his kidnappers with only his eyes.
Matthew McConaughey is set to star in an adaptation of Born To Run: A Hidden Tribe, Superathletes, And The Greatest Race The World Has Ever Seen.
Christine Taylor will return for Zoolander 2.
Brad Pitt may star in Angelina Jolie's Africa.  The movie will be based on ivory poachers in the 80s.
Jamie Foxx and Michelle Monaghan will star in a remake of Frederic Jardin's Sleepless Night.
Karl Urban has joined the cast of the Pete's Dragon remake.
Jay Roach will direct Six Days Of The Condor.  The movie is said to follow five of the best CIA spies who are on the run after escaping a secret insane asylum.
Mission Impossible 5 has moved up from Christmas Day to July 31, 2015.
This Week's Notable Trailers