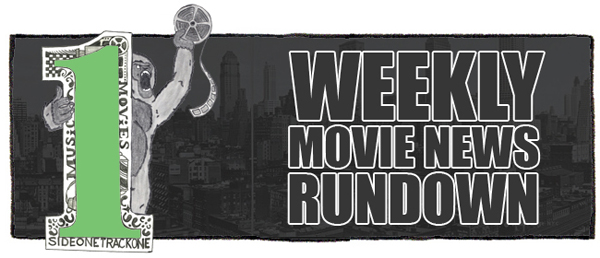 Time for your weekly movie news update!  Below you'll find a slew of sentences meant to provide a brief glimpse of what's been going on over the past week in movieland.  If something leaves you desperate for more info, then my advice is to do a little extra research on one or all of the following fantastic sites:  Latino Review, Dark Horizons, Ain't It Cool News, CHUD and/or JoBlo.  Read on!
Channing Tatum may direct Forgive Me, Leonard Peacock.  It's said to be about a troubled high schooler who intends to kill his best friend and then himself.
Terro Rossio (Pirates Of The Caribbean) has been hired to update Steve McQueen's Yucatan.  Robert Downey Jr. is currently attached to star in the film that follows salvagers looking for Mayan treasure in the Yucatan Peninsula.
Bryce Dallas Howard is reportedly close to signing on for the remake of Pete's Dragon.
Penelope Cruz has joined the cast of Zoolander 2.
Rumor has it that Tom Cruise is wanted for the Highlander reboot.  If he were to sign on, he would play Juan Sanchez Villa-Lobos Ramirez.
Sony has dropped the Steve Jobs biopic.  Danny Boyle is still attached to direct.
Peter Berg is expected to direct Hunt For El Chapo.  It's said to be about Joaquin Guzman Loera, who was once the head of the Sinaloa drug cartel.
Jean-Marc Vallee (Dallas Buyers Club) will direct Amy Adams in a currently untitled Janis Joplin biopic.
Brendon Thwaites (The Giver) may sign on for a role in Pirates Of The Caribbean: Dead Men Tell No Tales.
Martin Campbell (Casino Royale) is reportedly the top choice to direct GI Joe 3.
Jason Reitman is set to direct a movie based on the article I Would Only Rob Banks For My Family.  It's said to follow a Texas family who pulled off two bold heists before getting caught during their third attempt.
Paul Greengrass is set to direct a new adaptation of George Orwell's 1984.
Mel Gibson may direct Hacksaw Ridge, which will reportedly detail the true story of Private First Class Desmond T. Doss, a soldier in WWII who refused to kill or carry a weapon.  Andrew Garfield is expected to star in the film.
Djimon Hounsou (Guardians Of The Galaxy) will reportedly replace Idris Elba as the "Merlin-esque figure" in Guy Ritchie's Knights Of The Roundtable: King Arthur.
Keanu Reeves may star in The Panopticon.  It's said to center around a man who receives a mysterious package that contains a pre-recorded message from himself that warns the world is about to end and only he can save it.  Tarsem Singh (The Cell) may direct.
Chris Pratt may star in Cowboy Ninja Viking.  The movie will reportedly follow a counter-intelligence agent with multiple personality disorders who is sent to stop members of his unit who have gone rogue.
For X-Men Apocalypse, Hailee Steinfeld, Chloe Grace Moretz, and Elle Fanning are the actresses being considered to play young a Jean Grey., and for Cyclops it's Ben Hardy (East Enders), Charlie Rowe (Red Band Society), and Timothee Chalamet (Interstellar).
Josh Boone recently noted that he expects his adaptation of Stephen King's The Stand to span four movies.
Martin Freeman, Tina Fey and Margot Robbie are set to star in the adaptation of journalist Kim Barker's comic wartime memoir Taliban Shuffle.
Melissa McCarthy is set to play Tinker Bell for director Shawn Levy.  No other details about the film are currently known.
Zach Braff may direct a remake of Going In Style.  The original followed a group of elderly men who, out of boredom, decide to rob a bank.
This Week's Notable Trailers