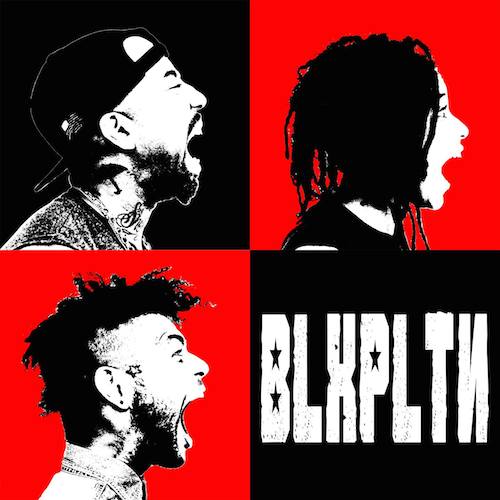 BLXPLTN is an electro-punk band based here in Austin. The trio is made up of TaSzlin Muerte (electro drums, vocals), Jonathan "Javelin" Horstmann (bass, synth, vocals) and Khattie, aka Lil K Big Q (guitar). The band is fairly new but they're generating a lot of attention with their raucous live shows and furious tracks.
The band blends electronic influences such as Joy Division and Future Islands with hardcore and punk. The end result sounds a bit like TV on the Radio but with a hard industrial edge. TaSzlin and Javelin make an amazing rhythm section but it's Khattie's scorching guitar and frequent screams that makes BLXPLTN so unique.
Their wildly impressive first full-length, Black Cop Down, comes out on October 14. If you're very lucky, you might be able to score a copy at one of their shows this week. The first is at Red 7 tomorrow night with Aviateur and Panoramas. You can also see them this Saturday at the Ditch the Fest Fest at Empire Control Room. Even if you can't snag the new CD, you'll thank me for recommending BLXPLTN after you experience their killer live show.
:BLXPLTN – Start Fires:
:BLXPLTN – Train (Get Out):