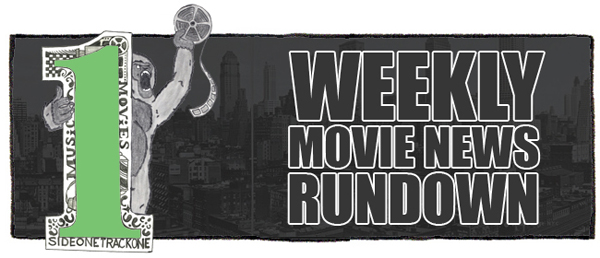 Time for your weekly movie news update!  Below you'll find a slew of sentences meant to provide a brief glimpse of what's been going on over the past week in movieland.  If something leaves you desperate for more info, then my advice is to do a little extra research on one or all of the following fantastic sites:  Latino Review, Dark Horizons, Ain't It Cool News, CHUD and/or JoBlo.  Read on!
David Ayer (the upcoming Fury) may direct a Suicide Squad adaptation.  The comic centers around a team of supervillains who are given the chance to redeem themselves by completing a dangerous mission for the government.
Tom Hiddleston is set to star in the King Kong prequel Skull Island.
Max Borenstein (the upcoming Skull Island) has been hired to write the script for Godzilla 2.
A Deadpool movie is officially on the way.  Ryan Reynolds will star, Tim Miller will direct (it will be his debut effort) and it will be released on February 12, 2016.
Matthew McConaughey will not appear in Magic Mike XXL.
Martin Campbell may direct Hunter Killer.  It's said to be a high-stakes story with nuclear war ramifications.
Jack Huston (Boardwalk Empire) is set to portray the titular character in Timur Bekmambetov's remake of Ben-Hur.
Leslie Mann has landed a role in the upcoming reboot of Vacation.  Chevy Chase. Ed Helms and Christina Applegate are already set to star.
Angelina Jolie is reportedly set to direct Africa.  It's said to be an epic drama about ivory poaching in the 80s.
Ang Lee will officially adapt the Iraq War novel Billy Lynn's Halftime Walk.
Chris Hemsworth will produce and star in an adaptation of I'll Never Get Out Of This World Alive.  The book follows Toby "Doc" Ebersole as he's haunted by the ghost of Hank Williams.
Matt Damon and Paul Greengrass are reportedly in talks to return for another Bourne movie.  A Jeremy Lin-directed and Jeremy Renner-lead Bourne film is said to also still be in development.
The next Bond movie is set so start shooting in December of this year.
The Assassin Creed's adaptation has been delayed indefinitely.
Josh Trank's Fantastic Four has been bumped from August 7, 2015 to June 19, 2015.
Marvel's Doctor Strange movie will be released on July 8, 2016.
Liam Neeson is reportedly being courted to star in the American version of Tell No One.
This Week's Notable Trailers