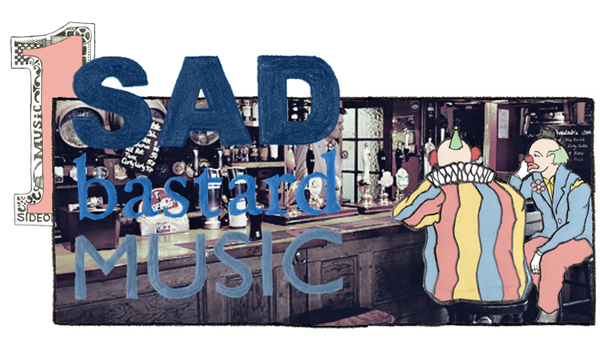 Welcome to another installment of the internet's definitive column that talks about the best sad pop music there is. Each month we delve into heartbreak and feelings of general no-good, malaise.
If after listening to the below songs you don't cry on the outside, you are dead on the inside. The sadder the song, the better the song- that's been the motto.
Tear your heart out and drop it in a pint glass full of whiskey and let's dig in.
:The Dukes - Teardrop Eyes:  The great New Orleans producer and proto-rock and roll godfather Cosimo Matassa passed away earlier this month so I wanted to include something here that he touched and the Dukes win. It's the short, somber sax solo that does it for me for this 1956 doo wop jam. "Come back to me darling, these teardrops just keep falling." Rest in peach Cosimo.
:Merle Haggard - Swinging Doors:  "In here the atmosphere's just right for heartaches, and thanks to you I'm always here till closing time." Merle's character has been driven to living at the very hole in the wall he does his drinking. Poor guy. This 1966 album went to number 1 on the Billboard Country Charts and still resonates to anyone who has ever seen a lonely fella at a honkytonk. This is a common occurrence in Texas.
:Yeah Yeah Yeahs - Despair:  "Oh despair, you've always been there, You were there through my wasted years, Through all my lonely fears."  I love it when the always fierce Karen O gets emotional. The band is so fun and such a turn-key, art-rock dance party in most cases but when they want to they can go from zero to gloomy hopelessness in no time at all. There's no escaping a salty discharge from the eyes in this wasted life hymn.
:Kissing Book - Superman Vs Lloyd:  "I can't believe all the time I spent thinking about the way that you walk and the way you dress. I can't believe all those days went by when I was lying broken-hearted on your bed." Being knocked emotionally down the scale from Superman all the way to Lloyd Dobler is no fun descent. No sir.  It happens and it hurts. 90's Portland, Magic Marker recording artists Kissing Book know all about it.
:Beverly - Black And Grey:  This is the last song on the debut Beverly album Careers. The somber dittie is a perfect ambient closer to the indie-pop goodness from Frankie Rose (ex-Crystal Stilts/Vivian Girls drummer). The vocals are haunting and work together with the simple instrumentation in this song about darkness in a wonderfully lush way.
:The Mountain Goats - Hellhound On My Trail:  From 1996's Nothing for Juice record, this Robert Johnson cover is as intense as it should be. There is no escaping the doom and the evil that is coming for the sinner protagonist. This is prime Mountain Goats territory.  And hey, that's sad. KnowwhatImean?  Sidenote: John Darnielle's new book Wolf in White Van is out now and it's fantastic.
SONG OF THE MONTH:
Fuck it. Here's some Taylor Swift.
********
If you're in Austin, hear the the saddest pop tunes of all time at the next installment of NO DANCING: Sad Bastard Music at the Volstead on October 14. The saddest, bastardest night of music in the whole country is enhanced each month with cheap drinks to drown the sorrows and free Kleenex to dry the tears. It's fun to get lonely!