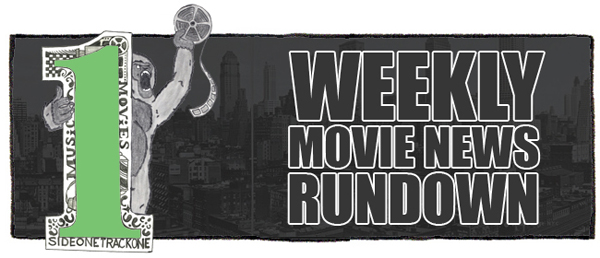 Time for your weekly movie news update!  Below you'll find a slew of sentences meant to provide a brief glimpse of what's been going on over the past week in movieland.  If something leaves you desperate for more info, then my advice is to do a little extra research on one or all of the following fantastic sites:  Latino Review, Dark Horizons, Ain't It Cool News, CHUD and/or JoBlo.  Read on!
The rights to Anne Rice's The Vampire Chronicles have been picked up by Universal.
Samuel L. Jackson and Kevin Hart will star in The Black Phantom.  It's said to be a buddy comedy.
Terminator: Genisys is officially the name of the new Terminator movie.
Richard Linklater has reportedly decided to not direct the remake of The Incredible Mr. Limpet.
Taylor Kitsch has reportedly been offered the lead role in the remake of The Raid.
Paul Feig (Bridesmaids) is reportedly looking at writing, directing and producing a female-centric Ghostbusters 3.
Eli Roth's The Green Inferno has been removed from Open World's release schedule.  No word yet on what will happen with the film.
Judd Apatow is set to produce a movie from the Lonely Island tro – Andy Samberg, Akiva Schaffer and Jorma Taccone.
Scott Adkins (Ninja: Shadow of a Tear) and Tony Jaa (Ong Bak) have been cast in the remake of Kickboxer.  Dave Bautista (Guardians of the Galaxy), Georges St. Pieree (Captain America: The Winter Solider) and Alain Moussi (X-Men: Days of Future Past) are already set to appear in the movie.
Newcomer Daisy Ridley is expected to appear in Star Wars: Episode VII, VIII and IX.
Burr Steers (Igby Goes Down) is set to direct Pride And Prejudice And Zombies.  Lily James (Downton Abbey), Sam Riley (Maleficent) and Bella Heathcote (Dark Shadows) have been cast in the film.
Tom Cruise has reportedly been offered the lead role in South China Sea.  The movie is said to be an action thriller set on water.
Terry Gilliam recently noted that he hopes to shoot his eternally-gestating The Man Who Killed Don Quixote after Christmas.
Eric Bana may star opposite Rooney Mara in Jim Sheridan's adaptation of Sebastian Barry's The Secret Scripture.  The story centers around a woman at a mental hospital.
This Week's Notable Trailers