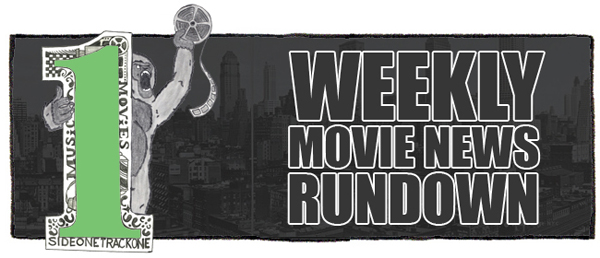 Time for your weekly movie news update!  Below you'll find a slew of sentences meant to provide a brief glimpse of what's been going on over the past week in movieland.  If something leaves you desperate for more info, then my advice is to do a little extra research on one or all of the following fantastic sites:  Latino Review, Dark Horizons, Ain't It Cool News, CHUD and/or JoBlo.  Read on!
Neal Purvis and Robert Wade (Casino Royale and other Bond films) have reportedly been brought in to rework the script for the next Bond entry.
Doug Liman (Edge of Tomorrow) is reportedly in talks with Warner Bros. to direct a remake of Victory.  The original film followed a group of POWs who have to play a soccer match against the German Nation Team.
Frank Darabont (The Walking Dead) has been hired to direct Snow White And The Huntsman 2.
Pacific Rim 2 has been given the release date of April 7, 2017.
Shane Black has been hired to direct a new Predator sequel.
The WarGames remake is starting to come together.  Dean Israelite (Grace of Monaco) is expected to direct, and Ansel Elgort (The Fault In Our Stars) and Tye Sheridan (Mud) are said to be the main two up for the lead role.
Ridley Scott has officially committed to make this next film The Martian.  Matt Damon will star.  The movie is said to follow an astronaut who is stranded on Mars.
Sylvester Stallone is reportedly set to star in Rambo V.  The film is said to feature the titular star against a Mexican drug cartel.
Star Wars: Episode VII is said to be keeping its December 2015 release date and will not be bumped to May 2016.
Joe Carnahan (The Grey) is set to direct Five Against A Bullet.  The movie is said to center around a Mexican politician who hires the world's five best bodyguards to protect him during an election.
Ben Kingsley will voice Bagheera in Jon Favreau's version of The Jungle Book. The cast already includes Idris Elba as Shere Khan, Scarlett Johansson as Kaa, and Lupita Nyong'o as Rakcha.
John Turturro is reportedly trying to get permission to write and direct a Jesus (from The Big Lebowski) a spin-off film.
Director Breck Eisner (Sahara) has dropped out of The Karate Kid 2.  He apparently had a scheduling issue.  No word yet on who will replace him.
Zak Penn (The Avengers) has been hired to rewrite Ready Player One.  The film is said to be about a young teen trying to complete a treasure hunt in his favorite game so that he can take over the company behind it.
This Week's Notable Trailers