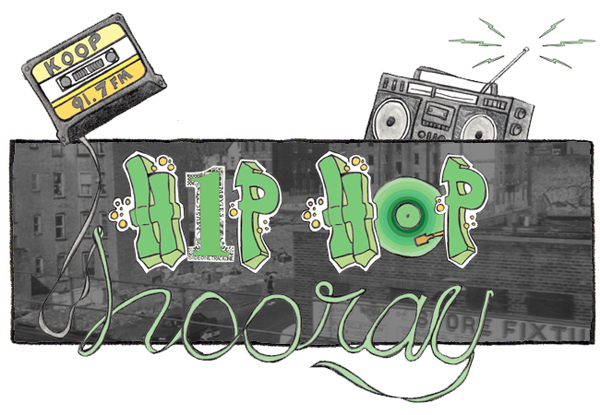 In a city that prides itself on being the "Live Music Capitol of the World", there's one thing conspicuously missing from the equation. At Austin Mic Exchange we've continually sought to create new opportunities and help grow the #ATXhiphop scene, but the growth is so much that it's time to evolve.
Hence the WEIRD CITY HIP-HOP FESTIVAL, the first of its kind in Austin, aimed at creating an annual concrete hip-hop conference to attract and book national talent and to truly give Austin artists a chance to take their rightful spot in the Live Music Capitol. We've launched our IndieGogo campaign to make this the best it can be this week, and you can have a stake in bringing this event to Austin, and cheap tickets! This is really happening. And it's gonna be AMAZING.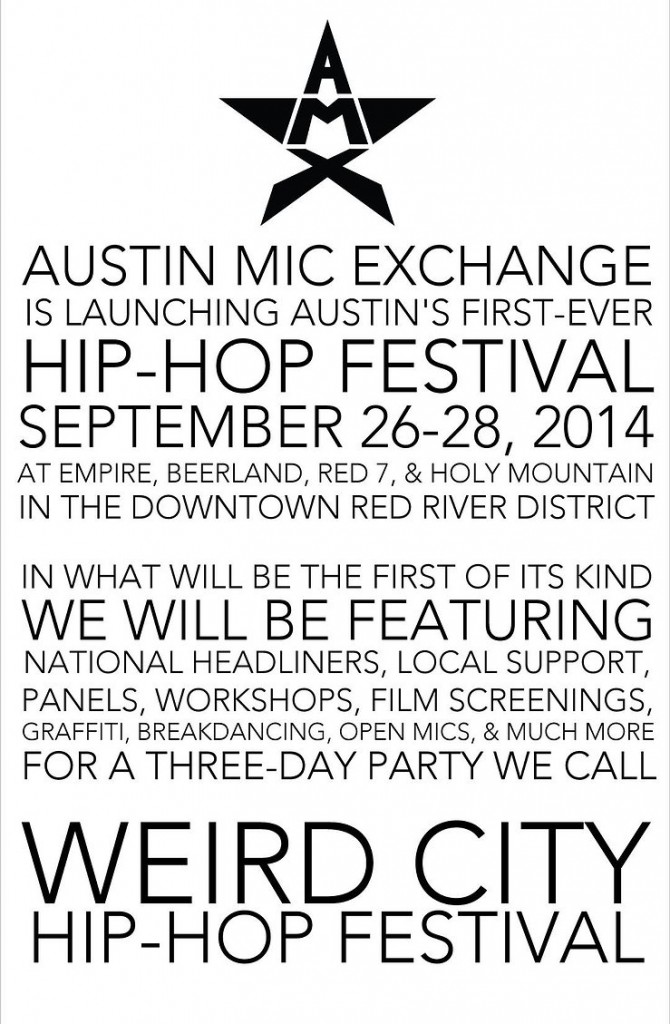 This month's mix is what I've been jamming – it's been a pretty mild summer in Austin, meaning I don't get the urge to bump super aggressive raps, so this mix varies from summer grooves to more thoughtful tracks. Happy summer!
SONG OF THE MONTH:
:Open Mike Eagle – Doug Stamper (Advice Raps):
Open Mike Eagle's just released and bitterly hilarious Dark Comedy is chalk full of amazing tracks.  Doug Stamper has the added benefit of the hardnosed advice raps of Hannibal Buress.  Check out the video here.
JUNE MIX:
:Salt N Pepa – Push It:
:RiFF RAFF – How To Be The Man (Featuring Slim Thug And Paul Wall) (Houston Remix):
:Duke of Earl – My Summer Kicks:
:Big K.R.I.T. – Mt. Olympus:
:Amerigo Gazaway And Yasiin Gaye – Travellin' Man Pt. II (Distant Lovers Mix):
:Ghostface Killah – Six Degrees (Featuring Danny Brown And BADBADNOTGOOD):
:Truth Universal – Mic Checks and Balances:
:Aesop Waits – Reeperlawn:
:Dilated Peoples – Good As Gone:
:L'Orange – Need You (Featuring Blu):
:Scuare – These Words:
:Death Grips – Black Quarterback:
:Shabazz Palaces – They Come In Gold:
:Busdriver – Ego Death (Featuring Aesop Rock And Danny Brown):