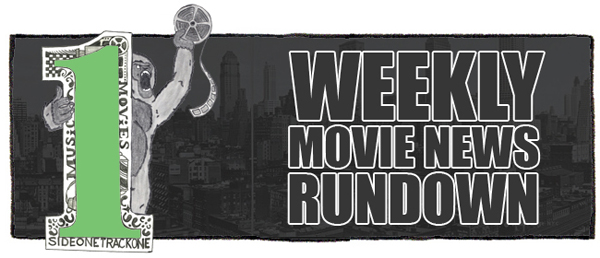 Time for your weekly movie news update!  Below you'll find a slew of sentences meant to provide a brief glimpse of what's been going on over the past week in movieland.  If something leaves you desperate for more info, then my advice is to do a little extra research on one or all of the following fantastic sites:  Latino Review, Dark Horizons, Ain't It Cool News, CHUD and/or JoBlo.  Read on!
Will Staples (Call Of Duty: Modern Warfare 3) has been hired to re-write the script for Mission Impossible 5.
Screenwriter Roberto Orci is said to be the frontrunner to direct Star Trek 3.  He co-wrote the first two films in the rebooted series.
John Goodman and Ken Watanabe are set to voice two of the new Autobots in Transformers: Age Of Extinction.
Chris Hemsworth has reportedly been offered a lead role in the planned reboot of the Lethal Weapon franchise.  In the new version, he would play the son of Martin Riggs.
Liam Neeson and Felicity Jones have landed roles in the adaptation of A Monster Calls.  The book is centered around a boy who is haunted be a tree that tells him scary stories every night.
Rebel Wilson (Super Fun Night) is set to star in a remake of Private Benjamin.
Disney has confirmed that they are working on three Star Wars spin-off films.
Lionsgate is currently working on bringing the Mighty Morphin Power Rangers back to the big screen.
Gerard Butler has dropped out of the Point Break remake.  He reportedly left the project due to creative differences and a scheduling conflict.
Newcomer Andrew Baldwin has been hired to write the next Bourne entry.  Justin Lin is still attached to direct.
Ian McKellen and Laura Linney are set to star in Bill Condon's Sherlock Holmes movie, A Slight Trick Of The Mind.
Emma Stone will star opposite Joaquin Phoenix in Woody Allen's next film.
A sequel to Spring Breakers is currently in development.  None of the cast members from the original are expected to return.  Irvine Welsh (Trainspotting) penned the script.
Anna Kendrick and Sam Rockwell will star in Mr. Right.  It's about a woman who finds out that the love of her life is a reformed hit man.  Max Landis (Chronicle) wrote the script.
Sigourney Weaver recently confirmed that she will appear in the next three Avatar movies.
Will Ferrell and Adam McKay are said to be working on a new animated Flintstones movie.
Jay Roach will direct The Trade for Warner Bros.  It's based on a 1970s scandal in which two New York Yankees pitchers admitted to swapping wives with each other.
Writer Leigh Whannell will make his directorial debut with Insidious: Chapter 3.
This Week's Notable Trailers