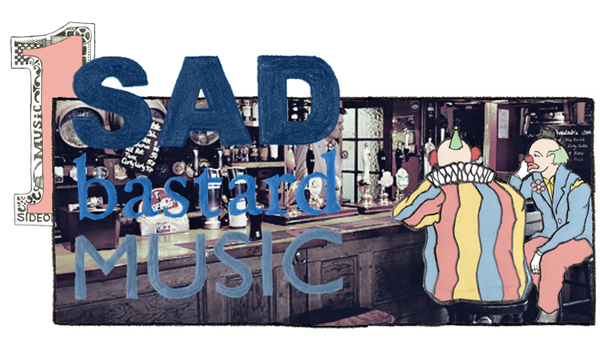 Heyheyhey. Thanks for looking at the words NO DANCING on your computer screen right now. I wrote them so I could communicate to you some of the best tear-soaked songs out there. All of the below tracks are perfect to drink whiskey and/or dry your eyes to. So, WELCOME to the latest monthly installment of your monthly soundtrack for glum.  We must pray to the alter of Elliott Smith, The Gloria Record, George Jones and the rest with this monthly column of sad bastard music here at Side One Track One. Let's explore some somebody done somebody wrong songs shall we?!
:Okkervil River – Happy Hearts:  The best Okkervil River songs are essentially photo albums of nostalgia and here is the only one that happens to have a Greek chorus of the volatile sounding outsider artist Daniel Johnston. I recall when this album came out in 2002 not fully appreciating Johnston the way I do now and in hindsight not realizing the thrill it must have been for the then young band to have a vote of confidence cast in their favor by the guy who famously painted Hi How Are You on a wall in Austin making it eternally "weird." God, is that record really 12 years old? I digress, for those who don't know this cut, you will forever love it because the song climaxes with one of the best spelling out of a phrase of all recorded music.
:Vashti Bunyun – I Won't Say:  "You've got your life and I've got mine, I've got no right to call you mine, When I know you can't give your life to me." Vashti Bunyun is an official cult-hero of sad bastard music and is sometimes called the "Grandmother of Freak Folk." Each song is stripped of anything that could be construed as not soul bearing, leaving the music with nothing but fragile human isolation and mad sorrow. Explore everything you can from Vashti!
:Memphis Minnie – Biting Bug Blues:  Being bitten by annoying little bugs is certainly a nuisance and in extreme situations – yes, I suppose that a sad song could be written about the extreme discomfort that they cause, but you see here … Memphis Minnie is using what's called A METAPHOR. She didn't really shoot an actual bed bug, she is shooting a PERSON in bed. Sadness, delusion, passion, gunplay and above all, blues WORDSMITHERY! Memphis Minnie wrote blues songs as a woman at a time when doing so was practically unheard of and the fact that they were about teaching men with certain infidelities a lesson with a firearm is all the more badass.
:Pedro the Lion – Eyes On The Finish Line:  Winners Never Quit is an album full of super sad bastard jams. Case in point here with Eyes On The Finish Line: a protagonist that's essentially misunderstood by his fellow man including his lover … and to that end … he does something that is foreboding, but in that same misapprehending reality panache, perhaps all will be forgiven in heaven? Perhaps not.
:Beck – I Get Lonesome:  We know that Beck's returned to the Sea Change era for the new record Morning Phase and a lot of people (myself included) are all jazzed up for that, BUT let's look back even further to the ORIGINAL sad Beck jams, circa One Foot In The Graves times. Here, Beck doubles vocals with the mega-baritone Calvin Johnson on a simple riff that manages to equate man's bummer thoughts "to dirty socks piled in the corner." The 2009 release of the album has a version of the song that's a bit shorter (less repetition of "I get lonesome") and that doesn't have Johnson singing on it. The version posted here is the real deal with that trademark odd couple harmony.
:B.J. Thomas – (Hey Won't You Play) Another Somebody Done Somebody Wrong Song:  This was a major hit for Thomas back in 1975, certified gold status even but the biggest accomplishment for this sad bastard banger is that the Muppets performed it on the Muppet Show.
:Robyn – Call Your Girlfriend:  This is one of the most upbeat and dancey songs about unfaithfulness out there. It's a modern and straightforward view of dating told from an underrepresented point of view of the "somebody new." It won't make sense right now but you're still her friend. Note for people who live in Austin: the karaoke dude at Ego's does indeed have this song in his arsenal.
SAD SONG OF THE MONTH:
:Mac DeMarco – Blue Boy: There are a lot of little ditties that Mac's trickled on his latest record Salad Days. This laid-back backyard BBQ jangler has some good sad complexity to it because the subject is insecure and conceited. The dreamy guitar and the meditative pop chorus all blends together in a big stew of sad bastard goodness. "Honey, that's the way that life goes."
AUSTIN RESIDENTS: Join me Tuesday June 17, 2014 from 10-2 for a FREE evening of songs detailing regrettable yesterdays, long gone lonesome blues, and waking up alone. The Volstead bartenders will be slinging the cheapest and BEST whiskey dranks on the Eastside and as always there is a fresh pack of Kleenex (real-deal name brand, mind you) in front of the turntables.
"LIKE" No Dancing on Facebook and post your favorite sad songs HERE.