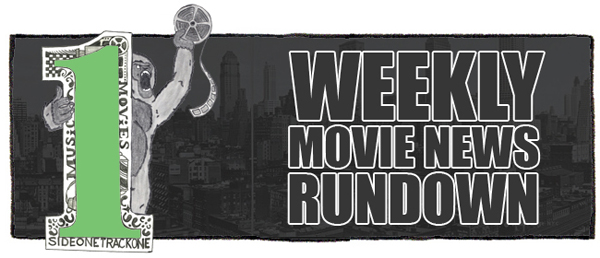 Time for your weekly movie news update!  Below you'll find a slew of sentences meant to provide a brief glimpse of what's been going on over the past week in movieland.  If something leaves you desperate for more info, then my advice is to do a little extra research on one or all of the following fantastic sites:  Latino Review, Dark Horizons, Ain't It Cool News, CHUD and/or JoBlo.  Read on!
Disney has let it be known that the Star Wars expanded universe will not be used in the new trilogy.  The films will tell an original story.
Newcomer Ray Fisher has landed the role of Cyborg in Batman VS Superman.
Jon Chu has chosen the leads for his Jem And The Holograms adaptation.  Aubrey Peeples (Nashville) is Jem, Stefanie Scott (ANT Farm) is Kimber, Hayley Kiyoko (The Vampire Diaries) is Aia, and Aurora Perrineau (Pretty Little Liars) is Shana.
Lupita Nyong'o (12 Years A Slave) and Scarlett Johansson may join the cast of Jon Favreau's take on The Jungle Book.
Jessica Chastain has reportedly been offered a lead role in Mission Impossible 5.  She may also portray Marlyn Monroe in Blonde for Andrew Dominik (Killing Them Softly).
The third Hobbit film will now be called The Hobbit: The Battle Of The Five Armies.
20th Century Fox has secured the rights to Flash Gordon and are looking at making a new film.
Danny Boyle and Leonardo DiCaprio are being rumored as the replacements for David Fincher and Christian Bale on Steve Jobs.
Steven Spielberg is reportedly set to direct an adaptation of Roald Dahl's The BFG.
Sacha Baron Cohen and Mark Strong will star in Grimsby.  The movie is said to follow a British Black Ops agent who has to go on the run with his brother, a soccer hooligan.
Amanda Seyfried has signed on for a role in Joe Wright's Pan.
Tom Hardy and Emily Browning (Sucker Punch) are set to star in Legend for Brian Helgeland (42).  The biopic will tell the story of gangsters Ronnie and Reggie Kray.
Sony and Mattel are in the early stages of making a live action Barbie film.
Ron Howard is attached to direct an adaptation of Joel Dicker's The Truth About The Harry Quebert Affair.
Screenwriters Alex Kurtzman and Roberto Orci have decided to professionally separate.  Together the duo penned both Star Trek films, Mission Impossible III, Now You See Me, and many others.
This Week's Notable Trailers