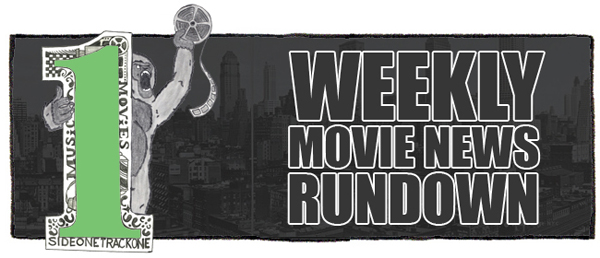 Time for your weekly movie news update!  Below you'll find a slew of sentences meant to provide a brief glimpse of what's been going on over the past week in movieland.  If something leaves you desperate for more info, then my advice is to do a little extra research on one or all of the following fantastic sites:  Latino Review, Dark Horizons, Ain't It Cool News, CHUD and/or JoBlo.  Read on!
Johnny Knoxville and Tony Shalhoub have joined the cast of Teenage Mutant Ninja Turtles.  Knoxville will provide voice and mo-cap work for Leonardo, and Shalhoub will do the same for Splinter.
Holly Hunter, Callan Mulvey (300: Rise Of An Empire), and Tao Okamoto (The Wolverine) have joined the cast of Batman Vs Superman.
Sheldon Turner (X:Men: First Class) has reportedly been hired to write the Splinter Cell adaptation.
Keegan-Michael Key and Jordan Peele are said to be working on a reboot of Police Academy.
Chiwetel Ejiofor is rumored to be up for the role of the villain in the next Bond entry.
Keanu Reeves will reportedly star in Eli Roth's Knock Knock, which is said to be a psychological thriller.
Jesse Plemons (Breaking Bad) has signed on for a role in Black Mass.  Some think that this means he is no longer attached to Star Wars: Episode VII.
Brad Pitt is said to be looking at starring in a currently untitled WWII romantic thriller.  Stephen Knight (Eastern Promises) penned the script.
Richard Donner recently let it slip that he's working on a sequel to The Goonies.
Gwendoline Christie (Game Of Thrones) will portray Commander Lime in The Hunger Games: Mockingjay Part 2.
In place of the long-awaited adaptation of Y: The Last Man, commercial director Dan Trachtenberg will direct a thriller called Valencia for Bad Robot.  No word yet on if he's fully off of Y: The Last Man.
Producer Jason Blum has noted that he would like to deliver a new Purge film on an annual basis.
Marvel reportedly has films planned through 2028.
Logan Lerman says he does not expect another Percy Jackson film to be made.
This Week's Notable Trailers