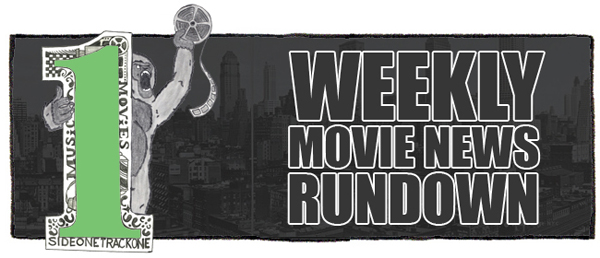 Time for your weekly movie news update!  Below you'll find a slew of sentences meant to provide a brief glimpse of what's been going on over the past week in movieland.  If something leaves you desperate for more info, then my advice is to do a little extra research on one or all of the following fantastic sites:  Latino Review, Dark Horizons, Ain't It Cool News, CHUD and/or JoBlo.  Read on!
The Magic Mike sequel has reportedly been given the title of Magic Mike XXL.  It's expected to be directed by Greg Jacobs (Wind Chill) later this year.
Ice Cube is said to be looking at doing another Barbershop movie.
Corey Stoll (House Of Cards) is expected to join the cast of Ant-Man.  Evangeline Lilly has officially signed on.
Mel Gibson may star in Blood Father, which is said to follow an ex-con trying to protect his teenage daughter from people trying to kill her.
Ridley Scott's untitled 2016 film is now officially Prometheus 2.  Michael Green (Green Lantern) has been hired to pen the script.
The director of the Scarface reboot is Pablo Larrain (No).  No word yet on a cast for the film.
Adam Sandler, Kevin James, Josh Gad, and Peter Dinklage have signed on to star in Chris Columbus' Pixels.  The film will reportedly follow four champion arcade gamers who are called into action to help save the world.
Kevin Costner recently noted that he has an idea for a four-film Western series.
Exodus is now set to be called Exodus: Gods And Kings.
Rumor has it that Frank Darabont is working on a new Indiana Jones entry.  There's also talk about Disney rebooting the series with a new actor as Indy.
Dayo Okeniyi (The Hunger Games) has landed the role of Danny Dyson (son of SkyNet creator Miles Dyson) in Terminator: Genesis.
Alan Tudyk and Tyler Labine let it slip that they've begun working on a sequel to Tucker And Dale Vs Evil.
Chris Evans says he will quit acting and focus on directing once his Marvel contract is up.
Broken Lizard's Jay Chandrasekhar is reportedly working on a new Cheech And Chong script.
Producer Jerry Bruckheimer says he is still developing Top Gun 2.
Pierce Brosnan has joined the cast of The Expendables 4.
Chris Pratt and Anna Faris are set to star in the comedy Vacation Friends.
This Week's Notable Trailers