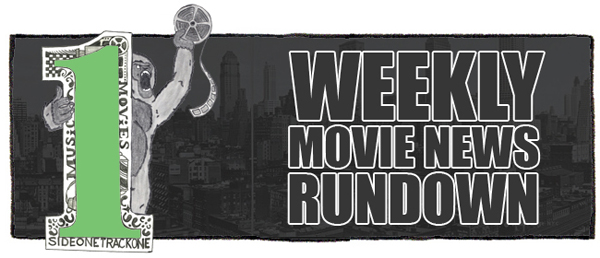 Time for your weekly movie news update!  Below you'll find a slew of sentences meant to provide a brief glimpse of what's been going on over the past week in movieland.  If something leaves you desperate for more info, then my advice is to do a little extra research on one or all of the following fantastic sites:  Latino Review, Dark Horizons, Ain't It Cool News, CHUD and/or JoBlo.  Read on!
Jon Chu (GI Joe: Retaliation) is set direct a big screen adaptation of the cartoon Jem And The Holograms.
David Fincher recently noted that he wants Christian Bale for the lead role in his Steve Jobs biopic.  Aaron Sorkin wrote the script.
Andy Serkis is set to direct Warner Bros' live action version of The Jungle Book.  Just to remind you, Jon Favreau is directing Disney's live action version of the tale.
Phil Lord and Chris Miller (The Lego Movie) are said to be close to replacing Ivan Reitman as the directors of Ghostbusters 3.
Doug Liman (The Bourne Identity) may direct Tom Hardy in the Splinter Cell adaptation.
Newcomer Levi Miller has landed the role of Peter Pan in Joe Wright's Pan.  Hugh Jackman, Garrett Hedlund, and Rooney Mara are already set to star in the 3D epic.
Ridley Scott has been given a release date of March 4, 2016 for a currently untitled film. Some think it's either Prometheus 2 or Blade Runner 2.
Joe Cornish (Attack The Block) is set to direct Section 6, a WWI British spy thriller.  Rumor has it that Cornish is no longer attached to Star Trek 3.
Cary Fukunaga (True Detective) will direct Noble Assassin, which will be based on the true story of Robert De La Rochefoucauld, an aristocrat turned Nazi-saboteur.
Pixar is said to be working on sequels for The Incredibles and Cars.
Sofia Coppola may direct a live action version of The Little Mermaid.
Newcomer David James Kelly has been hired to write the next Wolverine movie.  The film is expected to be released in May 2017.
Ellen Page will portray Judith Belushi-Pisano in the upcoming John Belushi biopic.
It's now being reported that the remainder of Paul Walker's scenes in Fast And Furious 7 will be completed using CGI and body doubles.
George R.R. Martin recently said that he may end the Game Of Thrones TV show with a big budget movie.
A script for a Tintin sequel is reportedly close to being completed.  Peter Jackson is still slotted to direct.
This Week's Notable Trailers