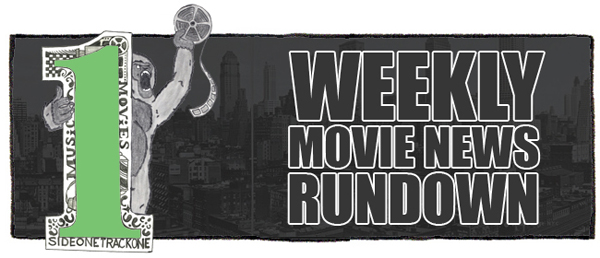 Time for your weekly movie news update!  Below you'll find a slew of sentences meant to provide a brief glimpse of what's been going on over the past week in movieland.  If something leaves you desperate for more info, then my advice is to do a little extra research on one or all of the following fantastic sites:  Latino Review, Dark Horizons, Ain't It Cool News, CHUD and/or JoBlo.  Read on!
There's a rumor going around that Warner Bros. and the Wachowski's are planning a trilogy of Matrix prequels.
Patrick Wilson (The Conjuring) is said to be close to signing on for a role in Ant-Man.
Harald Zwart (The Karate Kid), Chris McKay (Robot Chicken) and Mike Cahill (Another Earth) are said to be in the running to direct Masters Of The Universe.
Adam Driver (Girls) has reportedly signed on to play a villain in Star Wars: Episode VII.
Marc Webb is set to return to direct The Amazing Spider-Man 3.
Luke Bracey (GI Joe: Retaliation) has signed on to portray Johnny Utah in the remake of Point Break.
Adam Sztykiel (Due Date) has been hired to pen the sequel to We're The Millers.
Amanda Seyfried has signed on for a lead role in Ted 2.
Warner Bros. has grabbed the rights to the book American Blood.  Bradley Cooper is currently attached to star.
Vincent D'Onofrio (Law And Order: Criminal Intent) will be the villain in Jurassic World.
Joel Edgerton is set to star opposite Johnny Depp in the long in the works Whitey Bulger biopic, Black Mass.
Adam McKay recently noted there will be no more Anchorman films.
Fast And Furious 7 is expected to resume production in April.  The film will open April 10, 2015.
Warner Bros. is currently developing a Minecraft movie.
Rumor has it that there are two Indiana Jones films in development.
Seth Rogen and Evan Goldberg are set to write and direct The Console Wars, which will follow the 16-bit video game competition between Sega and Nintendo.
Despite the death of Harold Ramis, the development of Ghostbusters III is expected to continue over at Sony.
Joseph Gordon-Levitt is set to star as high wire artist Philippe Petit in Robert Zemeckis' To Walk The Clouds.
This Week's Notable Trailers