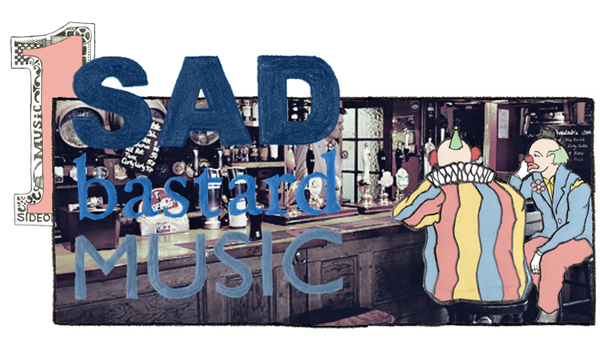 Pull up a barstool, take a deep breath and really let the rye fill your lungs as you delve into this month's installment of Sad Bastard Music. This is a column that takes a moment each month to veer away from the latest sweet Pharrell music videos and Major Lazer remixes to focus on the all-important sour. There is a whole night of this devoted to songs like this at the Volstead in Austin Texas called NO DANCING: Sad Bastard Music and I'm pleased to proclaim that you would very much enjoy it and your heart will go down south. The next one on the books is April 15. In the meantime – enjoy these Sad Bastard toonz!
SONG OF THE MONTH:

:Beck – Say Goodbye:
The nursery rhyme couplet lyrics along with the minor key trademark Beck somberness make this a mediation of sorts on Paul Simon's 50 Ways To Leave Your Lover. There's the old Steve Martin joke about the Banjo making everything sound cheerful and that it's impossible for a rapid picking banjo to convey a downer message- this is one of those songs that proves the honorable Mr. Martin incorrect. No Dancing welcomes back Beck to the paradigm of heartbreak and disconnection with the new album Morning Phase. Pick it up at a fine retailer near you. Thank you Mr. Beck for all your sad bastard contributions over the years.
MISERABLE MARCH MIX:
:Hank Williams – Lovesick Blues:  Gotta love the way that the lyric about "not being anyone's sugardaddy now" is something that only Hank Williams is able to sing with a straight face and not have it sound silly. Seriously, it's very hard to say "sugar daddy" with a straight face in everyday conversation and Hank Williams has managed to keep the word on a pedestal through the decades. God bless, this is one of the best songs of all time.
:Okkervil River – I Came Here To Say I'm Going Away:  This is from Okkervil's Golden Opportunities mixtape of live rarities that the Austin based band gave away to fans on the magical internet for the holiday season back in 2007. This particular song was translated by frontman Will Sheff from the great Serge Gainsbourg. With a Question Mark and the Mysterians outro hook of Too Many Teardrops, the song cuts to the heart of better days, cheery memories and then the inevitable end. At February's No Dancing Sad Bastard Music night Will Sheff was actually in attendance eating tacos, having a drink and letting all the sad jams pour over him. It was a proud moment for me because his music has been huge for me since the release of Don't Fall In Love With Everyone You See in 2002. Too many teardrops, for one heart to carry on.
:Dirty Three – Long Way to Go with No Punch:  OK, so there's no lyrics here to connect with that say what this song is about and why it's sad per-se but come on, you know it's sad as shit. It's sad as shit just like all Dirty Three songs. That's why we love them. We've got a song title to go off that implies lackluster and half-heartedness. The elegant whining of the violin and the repetitive trickling of the high-pitch piano keys punctuate the crippling bummerness of this sadcore jam. Love it.
:Leonard Nimoy – Visit To A Sad Planet:  This is classic from Mr. Spock's Music From Outerspace which came shockingly BEFORE Shatner's seminal Transformed Man. I don't want to spoil the twisty/turny narrative of this deep song, so why don't you just listen to it and enjoy it.
:The Good Life – Twenty Two:  The crashing of glass that almost becomes a beat but is closer to a bed to this song about a young man that's made relationship mistakes to say the least. This song has grown to mean different things to me since it came out in 2000 and the concept of what it means to be 22 years old has obviously changed as well as I'm about 10 years past that marker now. The narrative is from a tragic character and not necessarily songwriter Tim Kasher per-se, who at the time was 26 and is now 39. I can only imagine how the song resonates with him in 2014.
:Jackson 5 – Never Can Say Goodbye:  Classic Motown from 1971 belted out by then prepubescent, now dead King of Pop. This little dude has conviction in confessing the "very strange vibrations, piercing me right to the core" and his sincerity is what started his epic career, which peaked with his Weird Al Yankovic tribute parody of Fat. Oh – also he and his brothers had cool afros that they could hide boxes of Kleenex in for this track.
:Jason Lytle – Ghost of My Old Dog:  The Granddaddy mastermind wrote song of his most potent and sad songs under his own name after the unfortunate dissolving of the band who brought us a concept album Software Slump about a depressed robot that will always be overshadowed by OK Computer. Sigh. This song captures the moment of looking thru old photos of those who are no longer with us, man, woman or even man's best friend, and is done so with Lytle's signature melancholy complexity. Don't stop with Grandddady. get all the Jason Lytle projects you can get your hands on.  They are all special.
:The Magnetic Fields – Busby Berkeley Dreams:  I can't even start to write about this song. Sorry. It's too much. Time to end the mixtape for the month.
Like No Dancing on Facebook HERE!