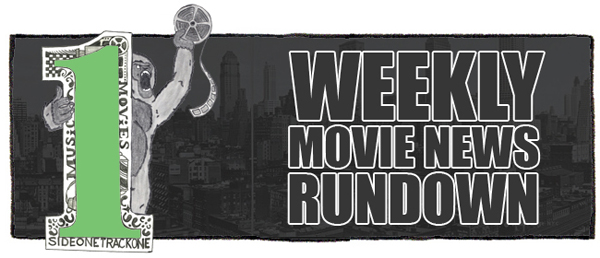 Time for your weekly movie news update!  Below you'll find a slew of sentences meant to provide a brief glimpse of what's been going on over the past week in movieland.  If something leaves you desperate for more info, then my advice is to do a little extra research on one or all of the following fantastic sites:  Latino Review, Dark Horizons, Ain't It Cool News, CHUD and/or JoBlo.  Read on!
There's a rumor going around that Batman Vs Superman will actually be called Man Of Steel: Fight Or Flight.
Paul Bettany is set to portray The Vision in The Avengers: Age Of Ultron.
Gary Oldman recently let is slip that he's been contacted about a role in Star Wars: Episode VII.
Evangeline Lilly is reportedly close to joining the cast of Ant-Man.
Seth Gordon (The King Of Kong) may direct the adaptation of the game Uncharted for Sony.  Gordon will also direct Queen Of Hearts, the story of how Alice In Wonderland was created.
Jonah Hill and Leonardo DiCaprio are set to star in a film based on an article called The Ballad Of Richard Jewell.  The Variety piece is centered around the security guard who found a bomb at the 1996 Olympics.
Rumor has it that Dwayne Johnson is set to be the next Green Lantern.
Will Smith is reportedly not expected to appear in the Independence Day sequel.
After originally dropping out, Johnny Depp is now once again set to star in Black Mass as Whitey Bulger.  Scott Cooper (Out Of The Furnace) will direct and Tom Hardy may co-star.
Marc Forster (World War Z) has been hired to direct the adaptation of Red Rising.  The book is currently being called the next Hunger Games.
There's a plan for three new Transporter movies, but they will reportedly be sequels and not star Jason Statham.  Statham, however, is set to star in The Mechanic 2.
John Hillcoat (The Road) is set to direct a crime drama titled Triple Nine. Chiwetel Ejiofor, Kate Winslet, Casey Affleck, Michael B. Jordan, Aaron Paul, and Gal Gadot are set to appear in it.
Guardians Of The Galaxy 2 is expected to be announced as part of Marvel's Phase 3 agenda.
John McTierman is set to direct Red Squad.  The will follow a former DEA agent and his team of mercenaries.
James Franco will direct the adaptation of The Disaster Artist: My Life Inside The Room.  It will center around Tommy Wiseau's cult classic The Room.
BJ Novak is set to portray Alistair Smith in The Amazing Spider-Man 2.
Gore Verbinski is set to direct the adaptation of the graphic novel Pyongyang.  It's said to be a dark comedy.
Robert Luketic (21) has signed on to direct The ExpendaBelles.
Matthew McConaughey and Ken Watanabe are set to star in Gus Van Sant's Sea Of Trees.  The movie is said to follow to men who embark on a reflective journey together through Japan's Suicide Forest.
Werner Herzog will direct Russell Brand, Sasha Pieterse (Pretty Little Liars), and Austin Abrams (The Inbetweeners) in Vernon God Little.  The movie is said to be a black comedy about American's obsession with fame and violence.
This Week's Notable Trailers