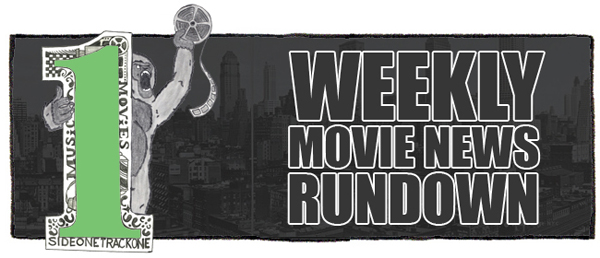 Time for your weekly movie news update!  Below you'll find a slew of sentences meant to provide a brief glimpse of what's been going on over the past week in movieland.  If something leaves you desperate for more info, then my advice is to do a little extra research on one or all of the following fantastic sites:  Latino Review, Dark Horizons, Ain't It Cool News, CHUD and/or JoBlo.  Read on!
In Batman VS Superman casting news, Jesse Eisenberg has been cast as Lex Luther and Jeremy Irons will portray Alfred.
Forest Whitaker is reportedly in talks to join Taken 3.
Craig Kyle, who produced the first two Thor films, has been hired to co-write the third entry with Christopher Yost.
Jason Reitman may direct an adaptation of Kaui Hart Hemmings' The Possibilities.  The book follows a grieving mother who learns a life-changing secret.
Chris Pine will star in David Gordon Green's The Line.  The movie is said to center around a border patrol agent trying to keep a young boy safe from a drug cartel.
Anthony & Joe Russo are reportedly in talks to return to direct Captain America 3.
Guy Ritchie is reportedly Warner Bros' preferred choice to direct the first of six films in a proposed King Arthur series.
David O. Russell and Jennifer Lawrence may re-team for a movie based on Joy Mangano, who created the Miracle Mop.
Marton Scorsese has cast Liam Neeson in his long awaited adaptation of Silence.  Ken Watanabe and Andrew Garfield signed on a long while back, and they are expected to still appear in the historical drama about priests.
Bill Murray, Bruce Willis, Kate Hudson, Danny McBride, Shia LaBeouf, and Zooey Deschanel will appear in Rock The Kasbah.  The film is said to center around a rock manager who finds a new young talent in Kabul.
Vin Diesel recently noted that expects the script for XXX 3 to be completed soon.
Justin Lin may direct Toymageddon for Fox.  The film is said to center around a toy factory that runs amok.
M. Night Shyamalan is said to be working on Bruce Willis on a film called Labor Of Love.  It's said to follow a widower who decides to make good on his promise to his wife to walk across the country.
The sequel to The Purge will reportedly be called The Purge: Anarchy.
Bill Hader may star opposite Amy Schumer in Judd Apatow's upcoming Trainwreck.
Zachary Quinto (Star Trek) has signed on for a role in the Hitman reboot.
Benedict Cumberbatch is set to star in Blood Mountain.  It's said to be about a private military contractor who catches one of the world's most wanted terrorists.
Jake Gyllenhaal and Amy Adams are set to star in the Phillip Seymour Hoffman-directed Ezekiel Moss.  The film is reportedly a Prohibition-era drama.
Rawson Marshall Thurber (We're The Millers) has been hired to direct an adaptation of Choose Your Own Adventure.
This Week's Notable Trailers