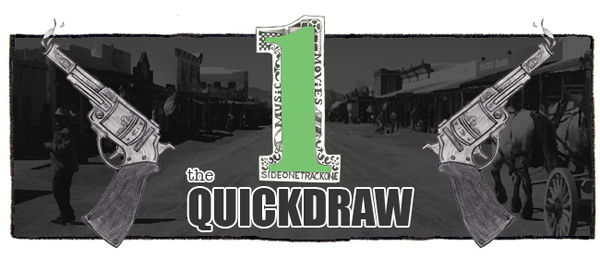 Why do people bother releasing new music in December?  Not only is it the holidays, but during that time I'm so deep in year-end lists that the thought of listening to anything new makes my head hurt.  It's silly I tell you!  In any case, I hate missing out on good tunes, so we're starting 2014 with a 20-track December recap.  The first part awaits you below.  Enjoy.
:St. Vincent – Birth In Reverse:  Naturally, St. Vincent (aka Annie Clark) owns the top spot on my Most Anticipated Abums Of 2014 list.  She is as talented as it gets.  Expect to be able to get her self titled effort on February 25 via Republic/Loma Vista.
:Yellow Ostrich – Shades:  This song only has a few moments where it actually feels like a Yellow Ostrich effort, but I think that's a good thing.  Their sound seems to have taken a darker, louder turn, and it's a change that's re-energized my love for them.  Cosmos will be released on February 25 through Barsuk.
:The Tontons – Magic Hour:  I raved about the Tontons for a good chunk of 2013, and you can expect more of the same this year – especially if they keep on putting out singles as snazzy as this one.  The band will release The Make Out King And Other Stories Of Love at some point this year.
:Stephen Malkmus And The Jicks – Cinnamon And Lesbians:  Stephen Malkmus is one of my heroes, so of course I love that he's put together a sixth solo album.  Here's hoping that he and the Jicks do a good number of SXSW shows.  Wig Out At Jagbags is due out tomorrow on Matador.
:Wild Moccasins – Emergency Broadcast:  Houston's Wild Moccasins have finally readied a sophomore effort, and I think it might end up being their best work yet.  This song is particularly kinetic, which I dig.  New West Records will put out 88 92 on February 4.
:Shivery Shakes – Sidewalk Talk:  If you've yet to start paying attention to Austin's Shivery Shakes, then it's time that you do.  I get the feeling that their upcoming full length is going to garner them a lot of love.  The band's Sidewalk Talk/So Long 7″ is out now on Punctum Records.
:Speedy Ortiz – Everything's Bigger:  Is anyone out there right now making better 90s-esque rock music than Speedy Ortiz?  I say no.  If I'm lucky they won't just put out an EP this year.  Carpark will release the Real Hair EP on February 11.
:Young Girls – Caroline:  Our friends over at Austin Town Hall Records recently started working with … ahem … Young Girls.  This super catchy track is the first thing to come out of the partnership.  The band's self titled EP will be available starting on January 28.
:EMA – Satellites:  If you asked me to describe EMA, I'd say she makes the kind of music that just dominates every part of you.  Yes, that means it's intense, but it's also rewarding.  Don't be afraid to dive in.  The Future's Void is expected out at some point this spring via Matador.
:SHMU – She's Leaving:  For those of you that don't know, half of Austin's Zorch is SHMU.  You'll like this if you have a fondness for experimental pop music.  The Chroma Key EP is due out January 14 via Grand Theft Zamboni Records.