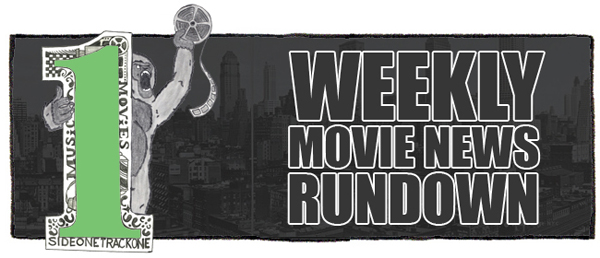 Time for your weekly movie news update!  Below you'll find a slew of sentences meant to provide a brief glimpse of what's been going on over the past week in movieland.  If something leaves you desperate for more info, then my advice is to do a little extra research on one or all of the following fantastic sites:  Latino Review, Dark Horizons, Ain't It Cool News, CHUD and/or JoBlo.  Read on!
Josh Brolin is reportedly in talks to star in Jurassic World.  Bryce Dallas Howard, Ty Simpkins (Iron Man 3), and Nick Robinson (Kings Of Summer) have already signed on.
Jonas Cuaron (Gravity) has been hired to pen the script for The Lost City.  The film is said to be about Atlantis.
Simon Crane, who has mostly done second unit director work (World War Z, Troy), has been hired to direct the Hot Wheels movie for Legendary.
Dwayne Johnson is set to star in San Andreas, which is said to be a disaster movie that will center around the fault line of the same name in California.
Alexander Skarsgard (True Blood), Theo James (Underworld: Awakening), Christian Cooke (Magic City), and Jamie Dornan (The Fall) make up the list of possible replacements for Charlie Hunnam in Fifty Shades Of Grey.
Joseph Gordon-Levitt and Paul Rudd are being rumored as the preferred choices for the lead role in Edgar Wright's Ant-Man.  Rashida Jones' name is also being tossed around as a possibility for The Wasp.
There's a rumor circling that says Tim Burton may develop and direct Beettlejuice 2.
It's being speculated that X-Men: Days Of Future Past will be released in 48fps.
Haley Joel Osment has landed roles in Kevin Smith's Tusk and Max Landis' Me Him Her.
Rose Byrne is reportedly in talks to star opposite of Melissa McCarthy in Paul Feig's upcoming spy comedy, Susan Cooper.
Guillermo Del Toro recently said that he has begun work on the script for Pacific Rim 2.
Henry Selick (Coraline) is set to direct an adaptation of A Tale Dark & Grimm.  The book follows Hansel and Gretel, but they escape their own story and end up in a variety of dark fairytales.
Writing duo Roberto Orci and Alex Kurtzman (Star Trek) have said that they play for their remakes of The Mummy and Van Helsing to have a shared universe.
This Week's Notable Trailers