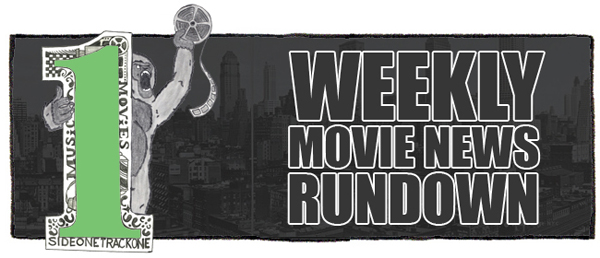 Time for your weekly movie news update!  Below you'll find a slew of sentences meant to provide a brief glimpse of what's been going on over the past week in movieland.  If something leaves you desperate for more info, then my advice is to do a little extra research on one or all of the following fantastic sites:  Latino Review, Dark Horizons, Ain't It Cool News, CHUD and/or JoBlo.  Read on!
Tom Hiddleston has replaced Benedict Cumberbatch in Guillermo Del Toro's Crimson Peak.
Warner Bros. and Leonardo DiCarpio's Appian Way are reportedly looking at putting together a new version of The Island Of Dr. Moreau.
Ice Cube is expected to return for 22 Jump Street.
Roland Emmerich now says there's a chance that Will Smith might appear in Independence Day 2.  The director also let it be known that he would like to do a Stargate trilogy.
Alan Taylor (Thor: The Dark World) will direct the first entry in a new Terminator trilogy.
Jared Harris (Sherlock Holmes: A Game Of Shadows) has landed a role in the Poltergeist remake.  He also will have a part in Guy Ritchie's The Man From U.N.C.L.E.
Benedict Cumberbatch is reportedly in negotiations to star in an adaptation of Lost City Of Z.  The actor is also rumored to have some sort of role in Star Wars: Episode VII.
Charlie Hunnam (Pacific Rim) and Dakota Johnson (21 Jump Street) have landed the lead roles in the Fifty Shades Of Grey adaptation.
Kurt Russell is expected to join the cast of Fast & Furious 7.
Bryan Cranston has denied the rumors that he's been cast as Lex Luthor.
Rumor has it that David Tennant (Dr. Who) is being considered for the role of Plastic Man in a future Justice League movie.
Ian McKellen will star as Sherlock Holmes in Bill Condon's adaptation of A Slight Trick Of Mind.
Holly Hunter and Harmony Korine have landed roles in David Gordon Green's Manglehorn.  Al Pacino is already set to star in the drama.
Tommy Lee Jones is all set to direct a remake of John Wayne's The Cowboys.
Cate Blacnhett may star in David Mamet's Blackbird.  The movie is said to follow a woman who discovers her grandfather may have had a hand in the JFK assassination.
Dwayne Johnson may star in McG's adaptation of the TV show The Fall Guy.
David Fincher has added Kim Dickens, Patrick Fugit, Carrie Coon, Tyler Perry, and Neil Patrick Harris to cast of Gone Girl.
Transformers 4 has been given the title of Transformers: Age Of Extinction.
Hayao Miyazaki recently emphasized that he is officially retired.
Jason Reitman is said to be looking at Adam Sandler, Jennifer Gardner, Cameron Diaz, and Rosemary DeWitt for roles in his adaptation of Men, Women, And Children.
This Week's Notable Trailers