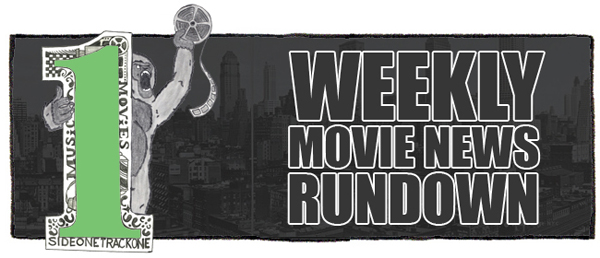 Time for your weekly movie news update!  Below you'll find a slew of sentences meant to provide a brief glimpse of what's been going on over the past week in movieland.  If something leaves you desperate for more info, then my advice is to do a little extra research on one or all of the following fantastic sites:  Latino Review, Dark Horizons, Ain't It Cool News, CHUD and/or JoBlo.  Read on!
Rupert Wyatt (Rise Of The Planet Of The Apes) is being rumored as the top candidate to direct Star Trek 3.  On the script front, Alex Kurtzman and Roberto Orci are set to return.
Christian Bale has reportedly been offered $50 million to return as Batman in the Man Of Steel sequel.  Also, Mark Strong and Bryan Cranston are being rumored as the preferred choices to portray Lex Luther.

Summit is currently planning a sequel to this year's Now You See Me.
Clint Eastwood has cast Erich Bergen as Bob Gaudio in his adaptation of Jersey Boys.  Bergen previously played the character in the stage version.
Hugh Grant has signed on for a supporting role in Guy Ritchie's The Man From U.N.C.L.E.
Seth Gordon is no longer attached to direct Horrible Bosses 2.  He reportedly had a scheduling conflict.
Tom Hiddleston recently confirmed that he will not appear in The Avengers: Age Of Ultron as Loki.
Bruce Willis is out of The Expendables 3, Harrison Ford, Mel Gibson, and Antonio Banderas are in.
Sam Rockwell may sign on to star in Sam Raimi's remake of Poltergeist.
Steven Spielberg will no longer direct American Sniper.  He was reportedly unhappy with the budget.
Christopher McQuarrie has finally been confirmed as the director of Mission Impossible 5.
Rob Cohen (XXX) is reportedly set to direct an adaptation of the comic heroine Razor.
Ang Lee's next film will reportedly be a "3D boxing epic" of some sort.
The Carrie remake has been delayed from March to October.  The delay is reportedly to make the film scarier.
Josh Gad (1600 Penn) will portray Sam Kinison in Larry Charles' Kinision.
MMA fighter Ronda Rousey may appear in Fast And Furious 7.
Pixar has provided some details on two of its upcoming movies. The first is The Good Dinosaur, which is said to be about dinosaurs who have evolved (in other words, they were never hit by an asteroid).  The cast includes John Lithgow, Frances McDormand, Bill Hader, Neil Patrick Harris, Judy Greer, and Lucas Neff.  The other is Inside Out.  It's said to take place in the mind of a little girl, and the characters are all emotions.  Lewis Black plays Anger, Amy Poehler plays Joy, Bill Hader play Fear, Mindy Kaling plays Disgust, and Phyllis Smith plays Sadness.
This Week's Notable Trailers