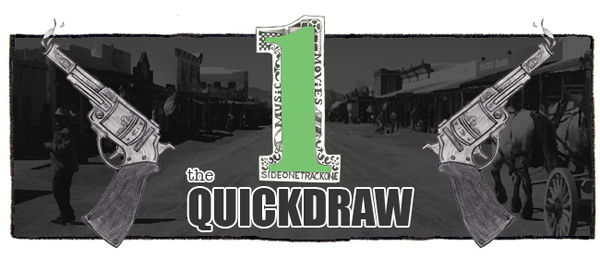 My inbox is overflowing, so you're getting a third Quickdraw this week.  Enjoy.
:Keep Shelly In Athens – Recollection:  I don't think I can recall Keep Shelly In Athens ever sounding this clean.  It works well for them.  You'll be able to snatch up their new album, At Home, when it's released on September 17 via Cascine.
:No Age – An Impression:  If you're thinking you should skip over this track because No Age usually blast out of your speakers and rattle your brain, then you're making a mistake!  This one is a slow burner, and it's fantastic.  An Object is due out on August 20 via Sub Pop.
:Elf Power – Sunlight On The Moon:  It's a little crazy that Elf Power have been around for nearly 20 years.  What have any of us committed to for that long?  Anyhow, this track is catchy, and I'm ready to check out Sunlight On The Moon.  It's due October 1 on Darla/Orange Twin.
:Army Navy – Crushed Like The Car:  "I would like to fall right off the planet."  This is such a dramatic song, but I really like it.  We'll all be able to check out the rest of Army Navy's The Crushed EP when it gets set free on August 20 through Fever Zone Records.
:Mazzy Star – California:  The illusive Mazzy Star have returned!  And it would appear that they're still as good as ever, because this song is stellar.  Seasons Of Your Day, which is their first album since 1996′s Among My Swan, is due on September 24 via Rhymes Of An Hour.