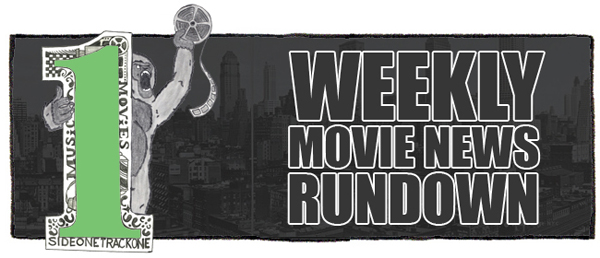 Time for your weekly movie news update!  Below you'll find a slew of sentences meant to provide a brief glimpse of what's been going on over the past week in movieland.  If something leaves you desperate for more info, then my advice is to do a little extra research on one or all of the following fantastic sites:  Latino Review, Dark Horizons, Ain't It Cool News, CHUD and/or JoBlo.  Read on!
Arnold Schwarzenegger is set to star in Maggie.  It will reportedly follow a man trying to stop his daughter from turning into a zombie.
Tobias Santelmann (Kon-Tiki) has been cast as the villain in Brett Ratner's Hercules.
Columbia is reportedly trying to put together a sequel for Bad Teacher.
Robert Downey Jr. has officially signed on for two more Avengers sequels.
Shailene Woodly (The Descendants) had her scenes as Mary Jane in The Amazing Spider-Man 2 cut.  Director Marc Webb apparently wanted to delay the character's appearance until the next film.  The role will likely be recast.
Sandra Bullock will not appear in the Annie remake.
Sam Taylor-Johnson (Nowhere Boy) will direct Fifty Shades Of Grey for Universal and Focus.
Russell Crowe will make his directorial debut with The Water Diviner.  It will follow a man who travels to Turkey to find his missing sons.
Universal has picked up the rights to Dumb And Dumber To.
Jurassic Park IV is now said to be coming in 2015.
Sin City: A Dame To Kill For has been delayed to August 22, 2014.
Ryan Reynolds has dropped out of the Highlander reboot.
Jack Palgenis (Transcendence) is reportedly in talks to write the script for the Prometheus sequel.
Scarlett Johansson will be the voice of a computer in Spike Jonze's HER.  The film is said to be about a guy who falls in love with his computer.
Nicolas Winding-Refn recently noted that he would like to make a sequel to Valhalla Rising.
Roland Emmerich has said that Will Smith will not be back for the Independence Day sequels.
Casey Affleck has joined the cast of Christopher Nolan's Interstellar.
Helena Bonham Carter will play the Fairy Godmother in Cinderella.
Jason Schwartzman has landed a role in Tim Burton's Big Eyes.  The film will detail the art of Walter and Margaret Keane.
Ken Levine (Bioshock) has been hired by Warner Bros. to rewrite the Logan's Run remake.
William Fichtner will appear as Shredder in Teenage Mutant Ninja Turtles.
Rumor has it that Marvel is looking at doing a Doctor Strange movie with Dormammu, Baron Karl Mordo, and The Mindless Ones as the villains.
Britt Robertson (The Secret Circle) and Naomi Scott (Terra Nova) are reportedly the favorites for the lead role in Brad Bird's Tomorrowland.
This Week's Notable Trailers