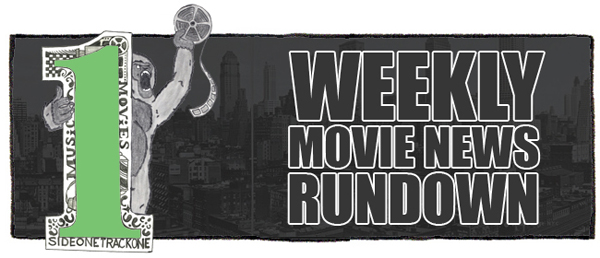 Time for your weekly movie news update!  Below you'll find a slew of sentences meant to provide a brief glimpse of what's been going on over the past week in movieland.  If something leaves you desperate for more info, then my advice is to do a little extra research on one or all of the following fantastic sites:  Latino Review, Dark Horizons, Ain't It Cool News, CHUD and/or JoBlo.  Read on!
John C. Reilly is now confirmed to be playing Nova Corps leader Rhomann Dey in Guardians Of The Galaxy.
Adam Sandler is set to star in the remake of the comedy Hello Ghost.  Chris Columbus will direct.
Idris Elba is in talks to join the cast of The Gunman.  Sean Penn is already set to play the lead.
Emma Watson is all set to star in Queen Of The Tearling.  The trilogy of movies will be based on a series of books written by Erika Johansen.
Melissa McCarthy and Seth Rogen will voice characters in the animated film B.O.O. (Bureau Of Otherworldly Operations).
Arnold Schwarzenegger recently noted that he expects to start shooting Terminator 5 in January.  He also confirmed that he will return for The Expendables 3.
Sandra Bullock may join the cast of the Annie remake as Miss Hannigan.
Jon M. Chu will return to direct the sequel to GI Joe: Retaliation.
Warner Bros. has decided to drop the planned sequel to Dumb And Dumber.
A sequel to Man Of Steel is reportedly being fast tracked by Warner Bros.  Zack Snyder will again direct, and David Goyer is expected to write the script.
The next Muppets movie has received a title change.  It will now be called Muppets Most Wanted.
Colin Feore will reportedly be the Vulture in The Amazing Spider-Man 2.  He will join a group of villains that already includes Paul Giamatti as Rhino, Jamie Foxx as Electro, and Chris Cooper as Green Goblin.  Many think this will setup a Sinister 6 storyline for the next Spider-Man film.
Fred Armisen will star in Justice For Al.  Directed by Terry Zwigoff (Bad Santa), the film will follow a guy who has to move in with his parents after he's convicted for a bogus crime.
Liam Hemsworth will replace Arnie Hammer in Cut Bank.  The film is said to be about a mechanic who accidentally sets in motion a series of deadly events.
Christina Hendricks has landed a role in in Measure Of A Man, which will center around a bullied teen who receives guidance from the recluse he works for.
Tom Hanks will star in Tom Tykwer's Hologram For The King.  The movie will reportedly deal with a man desperately trying to save himself from a dire financial situation.
20th Century Fox is said to be looking at trying to adapt the Choose Your Own Adventure book series.
Owen Wilson will star opposite Jim Carrey in Jared Hess' Loomis Fargo.  The comedy will follow an armored car driver as he plots his revenge on those who double crossed him after a heist.
This Week's Notable Trailers